Severe weather is possible across the South on Saturday, New Years Day!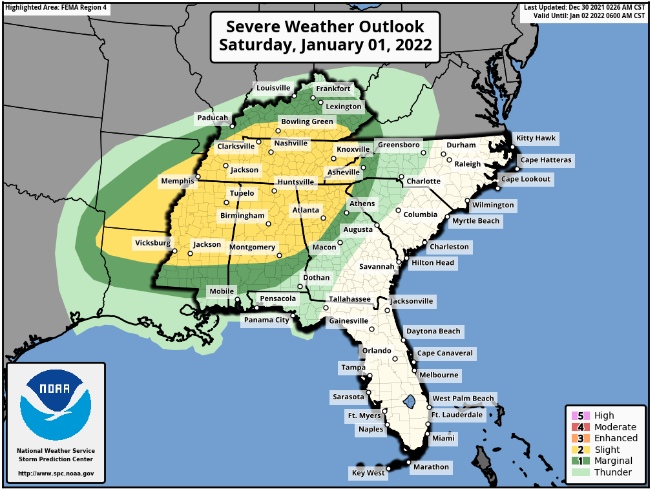 The Storm Prediction Center has a very large area of the South in the outlook for Severe weather on Saturday. All forms of Severe weather will be possible, including damaging winds, large hail, and Tornadoes.
Widespread thunderstorms are expected from the Arkansas, Louisiana, and Texas to the Western Appalachians on New Year's Day. All Severe-weather hazards are possible including large hail, damaging winds, and a few Tornadoes.
Discussion from the Storm Prediction Center:
Severe thunderstorms will likely be ongoing in portions of Mid-Mississippi Valley to the Arkansas, Louisiana, and Texas at the beginning of the period. Mid 60s dewpoints are forecast as far north as the Tennessee/Kentucky border with upper 60s dewpoints across Louisiana, Mississippi, and Alabama. This should be sufficient for at least modest destabilization ahead of storm activity, even with extensive cloud cover in place. Greater instability is expected to develop across Mississippi and Alabama where upper 60s dewpoints are expected, and where guidance shows at least some breaks in the clouds, which may allow some surface heating.
Strong shear will be in place across the entire warm sector. Expect 60 to 80 knots of mid-level flow and a broad low-level jet with 50+ knots of flow and a peak of 65 to 70 knots in the Tennessee Valley. Most 00Z (7 pm CST) guidance shows more backed surface flow across the warm sector than what was shown previously due to either a stronger surface low, a farther south track, or the slower timing. However, the flow still remains mostly south-southwest across the warm sector which results in less low-level turning in the lowest 1 km of the hodograph than would be expected for a greater tornado threat. Therefore, differences in storm intensity will be primarily driven by storm mode and regions of locally backed surface flow. The mostly boundary-parallel surface flow will also be less favorable for discrete supercell development within the warm sector. The strong shear will favor some supercell structures within linear segments and clusters, but storm mode may remain quite messy.
A zone of greater severe-weather threat likely exists in the northern Mississippi, northern Alabama, Tennessee region, but too many uncertainties remain at this time to add higher probabilities.
Remain weather alert on Saturday, New Years Day! Plan now for what to do "IF" Severe weather threatens your area.