Plainview Volleyball Finishes Season As Class 3A State Runner-Up
News Release from AHSAA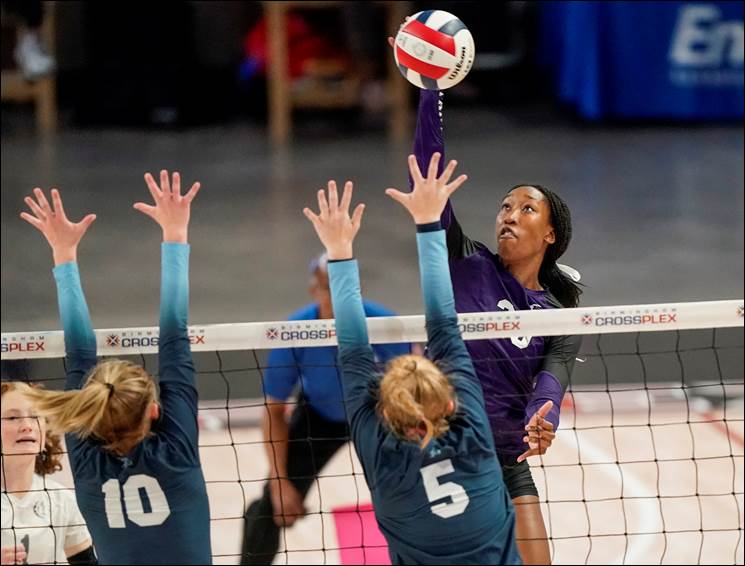 CLASS 3A STATE CHAMPIONSHIPS
Prattville Christian 3, Plainview 1

By Josh Bean | For the AHSAA
     BIRMINGHAM – Prattville Christian won the first nine points of Thursday's Class 3A volleyball championship match against Plainview.
     And the Panthers (38-19) did not stop there, but neither did the Bears.
    Tournament MVP Hannah Jones tallied 30 kills as the Panthers earned a 25-16, 16-25, 25-22, 25-22 victory at Bill Harris Arena. It is the first AHSAA volleyball championship for Prattville Christian, which won the Class 3A girls' basketball titles in 2021 and 2022.
    "We had a lot of energy at the start," Jones said. "We all played for each other and played the hard from the start."
      Plainview (63-12), which reached the 3A state finals in 2020, defeated the Panthers earlier this season, but PCA won when it mattered the most.
      Coco Thomas added 15 kills, Baylee Rogers had 44 assists and 16 digs, and Avery Rodgers added 15 digs and four kills for the Panthers. Jones also had 17 digs and three assists.
     "We had a motto at the beginning of the year: 'Whatever it takes,'" Prattville Christian coach Kaylon Cantrell said. "These girls put in the work, and they did it."      
      Plainview rallied to win the second set after its uneven start.
     "Definitely it didn't end the way we wanted to, but this group had a great season, a great run," Plainview coach Kaci Kirk said.
      Plainview's Jocelyn Hatfield led the Bears with 12 kills and Saydi Jackson added 10. Aubriella Hairston and Faith Odom added eight kills apiece, and Ali Price contributed 26 assists and 16 digs.
      Jones, Thomas and Rodgers are among the Panthers that also play basketball and will chase a third straight state hoops title. When will they start basketball practice? "Later today," Jones joked.
     Thursday's 3A finals is one of three scheduled to be at the Bill Harris Arena as the 52nd annual AHSAA Elite Eight State Volleyball Championships concludes Thursday.
      Bayside Academy and Spanish Fort play for the Class 6A state championship at noon. McGill-Toolen Catholic and Bob Jones meet in the 7A finals at 2 p.m. to close out the 2022 state tourney.
    All the matches at this year's state tournament have been live-streamed over the NFHS Network's subscriber-based platform. Veteran broadcaster Jerry Young is handling the play-by-play for the championship games.
Class 3A All-State Tourney Team
Hannah Jones, Prattville Christian (MVP); CoCo Thomas, Prattville Christian;  Baylee Rogers, Prattville Christian; Jocelyn Hatfield, Plainview;  Saydi Jackson, Plainview; Jorda Cook, Ohatchee.

AHSAA CHAMPIONSHIP MATCHES
CLASS 5A
Westminster Christian (47-9) 3, vs. Arab (49-14) 0 (25-23, 26-24, 25-13 -) – Westminster is 5A State Champs
CLASS 1A
Addison (46-10) 3, Covenant Christian (36-17) 0 (25-9o, 254-19, 25-18) – Addison is 1A state Champs
CLASS 2A
Donoho (44-14) 3, Pleasant Valley (35-16) 1 (25-18, 25-22, 24-26, 25-16) – Donoho is 2A State Champs
CLASS 3A
Prattville Christian (38-19) 3, Plainview (63-12) 1 (25-13, 16-25, 25-22. 2522)
Thursday, Bill Harris Arena, 10 a.m.
CLASS 4A
Montgomery Catholic (30-10) 3, Trinity Presbyterian (43-11) 1 (10-25, 25-15, 25-23, 25-16) – 
Montgomery Catholic is 4A State Champs
CLASS 5A
Westminster Christian (47-9) 3, vs. Arab (49-14) 0 (25-23, 26-24, 25-13 -) – Westminster is 5A State Champs
CLASS 6A
Bayside Academy (52-24) vs. Spanish Fort (46-16), Thursday, Bill Harris Arena, Noon
CLASS 7A
McGill-Toolen Catholic (50-80 vs. Bob Jones (51-6), Thursday, Bill Harris Arena, 2 p.m.