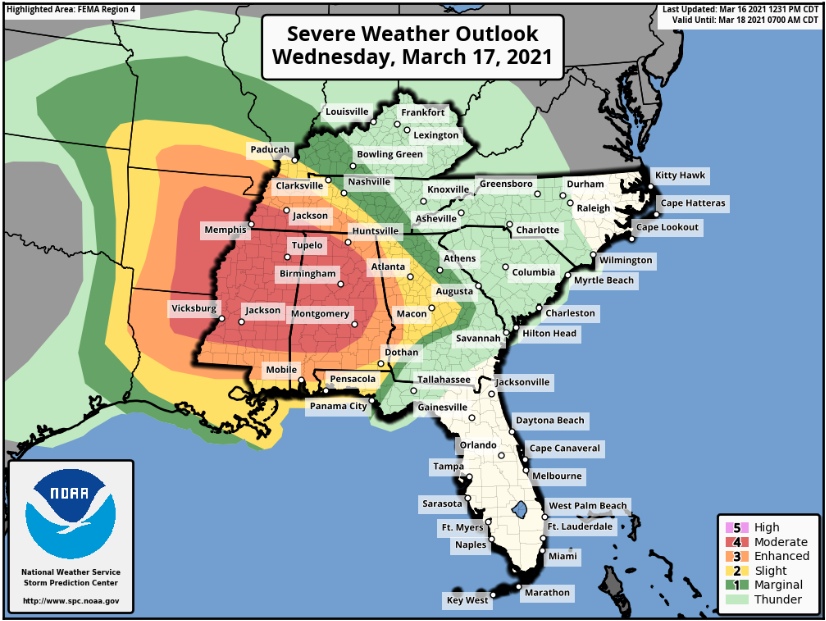 By now, most everyone has heard there is the chance for Severe Weather on Wednesday, March 17, 2021. This is setting up to be a very dangerous day across the South. When Severe Weather is forecast, a lot of people ask the question, "will this be like April 27, 2011?"
The answer to that question is yes and no. April 27, 2011 was a generational type Severe Weather event…i.e. one that happens once in a lifetime, that had unique parameters and characteristics. With that said, Wednesday, March 17, 2021 will not be the exact same as April 27, 2011, but the setup is becoming very similar. So far, the parameters are not sky high yet, like April 27th. But, those parameters are climbing.
The Storm Prediction Center issued a Moderate Risk (Level 4 out of 5) Monday night for Wednesday and that is surrounded by an Enhanced Risk (Level 3 out of 5) and a Slight Risk (Level 2 out of 5). First, do not get caught up in where these lines are at. There will be a chance for Severe Weather on Wednesday, anywhere without any of these outlined areas. And a Tornado is NOT just going to stop when it reaches one of these lines on a map.
The Storm Prediction Center now has talk in their latest update that a HIGH RISK (Level 5 out of 5) may be issued tomorrow morning. This is the same type scenario that happened on April 27, 2011. Most of Alabama was under a Moderate Risk the day before and then the morning of April 27th a High Risk was issued. Here is the wording directly from The Storm Prediction Center, "
...intense Supercells are expected to advance eastward
   along with the cold front across MS and into AL overnight. This will
   bring a second round of significant severe storms capable of intense
   tornadoes, large hail and intense damaging winds across much of
   MS/AL. 

If these trends are maintained, an upgrade to a High risk
   could be necessary

 with the initial Day 1 Convective Outlook at 06z
   tonight.

Please take this time to plan ahead…make sure you have multiple ways to receive warnings. If you live in a Mobile Home…get out, plan to leave and go to a shelter…do not wait until a warning is issued, you probably will not have time to get there. Go well in advance. These storms will form and go Severe very rapidly and you will likely have very little time. Make sure you have a battery radio, because, if like in 2011, the power is out for an extended power of time and cell service is affected, radio my be the only way you can receive warnings or information.
This is not to scare anyone…but this is A VERY DANGEROUS WEATHER SITUATION AND YOU NEED TO TREAT IT AS SUCH. THERE WILL BE NUMEROUS TORNADOES ON WEDNESDAY/WEDNESDAY NIGHT, AND THERE WILL BE SEVERAL VERY VIOLENT AND DESTRUCTIVE TORNADOES. TAKE THIS SERIOUSLY!
Who knows, there is a slim chance that things will not be as bad as we think…hopefully not and you can say we were all wrong, but at this moment, the models and parameters are in strong agreement that Wednesday will be a bad weather day.