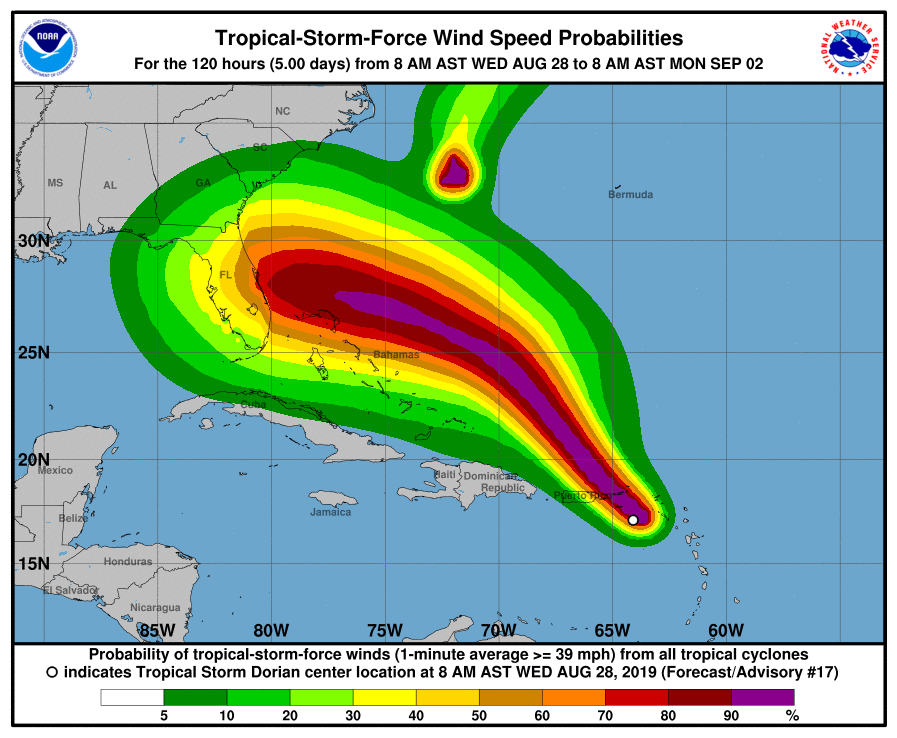 UPDATE: DORIAN IS NOW A CATEGORY 1 HURRICANE AND EXPECTED TO INCREASE IN STRENGTH.
According to the 2:00 PM (08-28-2019) advisory from The National Hurricane Center, Dorian is now a Category 1 Hurricane. The latest update shows Dorian slowing down some, in forward speed, and gaining strength, as it heads for the east coast of Florida.
Landfall is now expected sometime Monday morning as a Major Hurricane (Category 2 or higher). With expected winds of 110 mph or greater, Dorian will slam into Florida's eastern coast, bringing heavy rain, flooding, high winds, and storm surge. Some models have Dorian continuing across central Florida and into the Gulf of Mexico, but it's to early to predict exactly where Dorian will travel, once it makes landfall initially on Florida's eastern coast.
Most, reliable and accurate, forecast only go out about 5 days. So, if you live in, or have interest in, Florida, the Florida Panhandle, or along the Gulf of Mexico, you need to keep up to date on the track of this major Hurricane.
Stay up to date with the latest from The National Hurricane Center https://www.nhc.noaa.gov