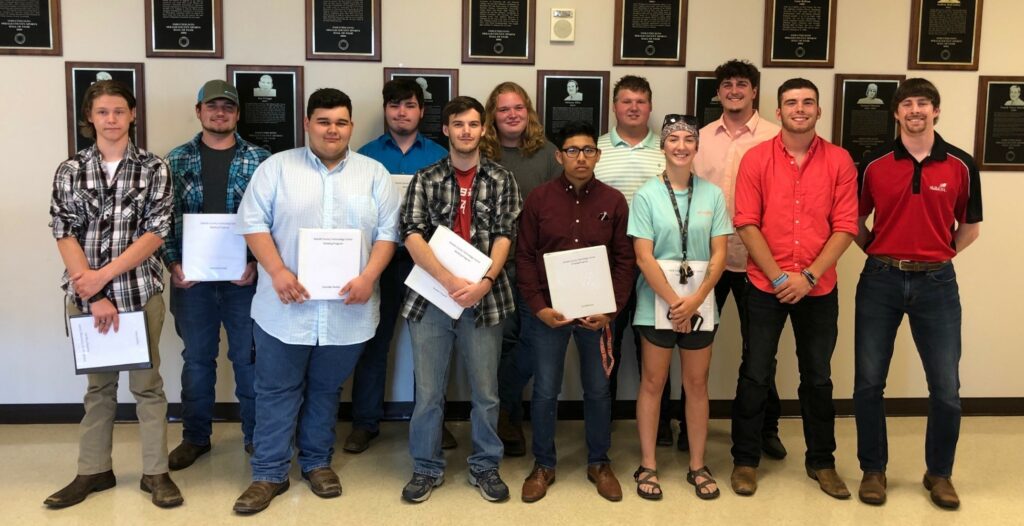 Pictured above are all of the Pipe Certified students for the 2018 – 2019 school year for a total of 32 open root 6G pipe certifications. DCTC Welding Instructor Russell McFall stated, "In reality when a student earns a 6G level test they actually have 12 total certifications in 1 because it trumps 11 lower level certifications under it in whatever process is being used. So the grand total of welding certifications this group accounted for was 384. All of the pipes were 100% X-Ray tested at a third party location with American Testing Laboratory, INC in Bessemer AL. The test were performed on 2 inch to 3 inch range outside diameter pipes. The thickness range of the pipes was from SCH 120 Super Coupons, SCH 80, and SCH 40. All 6G test are performed at a 45-degree angle which means all positions in one Flat, Horizontal, Vertical, and Overhead. A gap is also in-between the pipes, which is known as an open root joint design. What also makes this position hard is that it makes the individual use their left and right hand because of the distinct left and right sides of the pipe, therefore needing much more skill to pass the test. All pipe certifications were welded with the GTAW and SMAW processes. Most test were performed on carbon steel and others performed on stainless steel materials."
McFall explained, "It's impressive and hard to imagine my high school kids are passing these caliber of test considering I only have them for 2 years at the most. but at DCTC I hold my students to a higher standard and we are accomplishing more than almost all of the Colleges are doing in AL. If a student can pass these test they can work anywhere in the country and even overseas if they decide to. We offer 4 different 6G open root welding certifications a student can earn at the tech school. First, is a high pressure steam line test with the Tig only welding process all the way out on carbon steel pipe. Second, is the Boilermaker Common-ark test with a Tig root and 7018 stick rod out on carbon steel pipe. Third, is the UA-21 Pipefitter test with a 6010 rod for the root and 7018 rod out on carbon steel pipe. And fourth, the UA-41 Pipefitter test with the Tig only welding process all the way out with a purged root on stainless steel pipe.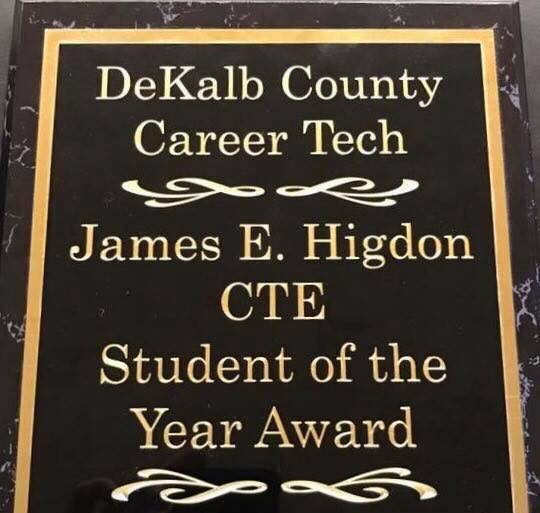 McFall added "If anybody knows what they're talking about in the welding world then they understand the difficulty of these test. I understand most people don't know the welding terms and lingo that I just listed. but these are high school kids performing exactly the same test that Boilermakers and Pipefitters take who work on high pressure steam lines for Fossil Power and Nuclear Power Plants. I can't promise that all students will become pipe certified. But I can promise you that I will work as hard as possible to do whatever it takes to train every student the best I can but I need that same effort and attitude from each student if we are going to be successful. We're setting the standard and raising the bar for the high school level of Alabama Career Tech Education. We're doing things that's never been done before and I couldn't be more proud of my students.
DeKalb County Career Tech Director Jonathan Phillips stated I cannot express enough how proud I am of Mr. McFall and his students obtaining the highest level of certifications within the field of welding. Mr. McFall's students have earned industry certifications at a level no other high school program has been able to match and only a select few at the college level have achieved.