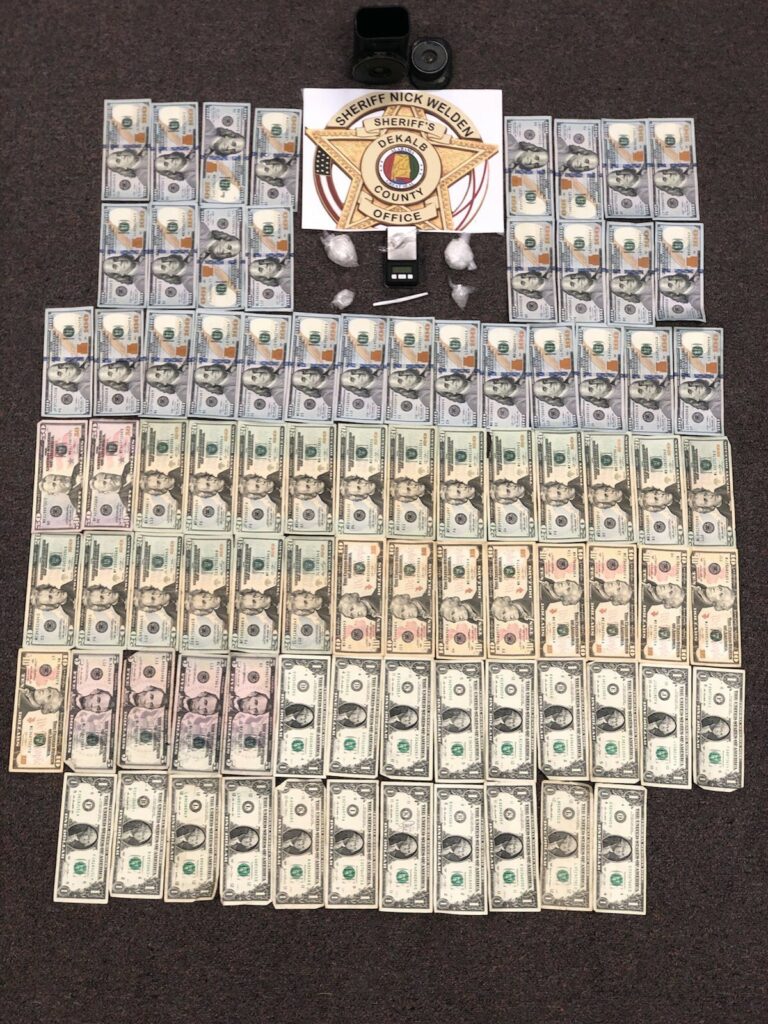 FORT PAYNE, Ala. —Last week was a productive one for the DeKalb County Drug and Major Crimes Unit. From February 21st – 28th agents recovered and seized 390 grams of methamphetamine as well as 178 grams of Kratom as a result of investigating citizen's tips and complaints. Various amounts of other illegal drugs were also seized.
On Thursday (February 21st), agents seized 178 grams of Kratom, and 3 grams of methamphetamine. As agents worked throughout the night, they were also able to apprehend a subject who was wanted by the Alabama Department of Corrections for an outstanding warrant. Two grams of marijuana was also confiscated during the arrest.
On the same date, agents conducted an operation seizing 125 grams of methamphetamine and 3 grams of cocaine. Also on that date, the Collinsville Police Department called the DeKalb County Drug Task Force to assist with an arrest; yielding two grams of synthetic marijuana.
Early Saturday morning (February 23rd) the DeKalb County Sheriff's Office stopped a vehicle and arrested one suspect. 14 grams of methamphetamine was confiscated after the subject brought it in to the DeKalb County Detention Center. Agents also continued their investigation from earlier in the week; arresting two suspects and yielding 34 grams of meth.
The following Monday (February 25th), agents conducted another search based off information given by the community in the Whiton area. While there, subjects fled the scene on foot. Two were arrested for Possession of Drug Paraphernalia. The others have been identified, and warrants are pending.
The Drug Task Force also assisted in the recovery of a stolen motorcycle that was taken from County Road 97 (near Fort Payne) on the same day.
Also on Monday night, DeKalb County Investigators, Drug Task Force Agents, and an Agent with Alabama State Parks went to a residence on County Road 70 (near Geraldine). Upon arrival, a male fled the residence on foot, but was apprehended shortly after. Investigators and agents found a meth lab in a van located in the yard while at the residence. Two female and a male were arrested.
On Wednesday (February 27th), two more were arrested after being caught with almost 3 grams of methamphetamine at the Alabama Board of Pardons and Paroles in Fort Payne.
Late Wednesday, Drug Task Force agents were working the Cartersville area. A vehicle ran a stop sign at the intersection of County Roads 155 and 169. When a traffic stop was attempted, the vehicle led deputies and agents on a chase lasting approximately 20 minutes. The pursuit concluded with the vehicle wrecking in Bryant, Alabama near the Tennessee line. Two of the occupants were arrested, and another escaped on foot.
The subject that fled on foot, Ryan Hardeman (24 of Higdon), is facing several charges. If you know his whereabouts, contact the DeKalb County Sheriff's Office at (256)845-3801 or send a tip to info@dekalbcountysheriff.org. Your identity will be kept confidential.
On February 28th, an agent stopped a vehicle for expired tag near the Fort Payne Police Department. Upon search of the vehicle, the agent found 19 Xanax pills in which the driver did not have a prescription.
DeKalb County Sheriff Nick Welden said of the arrests: "I commend these agents on their hard work this past week. There is significantly less poison on our streets thanks to their efforts."
"It makes a big difference for the safety of our citizens to have a motivated and proactive team tackling our drug problem. These guys are good at what they do, and most importantly, they love what they do," he said.
"Even those that aren't immediately caught will be more apprehensive about selling this poison in DeKalb County. Families are sick of losing their loved ones to drug abuse, and we will continue to do our part to fight it," the Sheriff said.
"Stay safe, and God Bless!" Concluded Sheriff Welden.
Those arrested for Drugs this week were:
Mary Galloway (48 of Fort Payne)
Distribution of Controlled Substance
Drug Paraphernalia
Promoting Prison Contraband, 2nd Degree
Marcie Auman (47 of Fort Payne)
Possession of Paraphernalia
Possession of Marijuana
Tyrone Boldware (45 of Gadsden)
Possession of Controlled Substance
Drug Trafficking
Controlled Substance
Contempt of Court
Daniel Lee (20 of Dawson)
Tracey Mars (48 of Rainsville)
Receiving Stolen Property, Third Degree
Joey Davis (43 of Fort Payne)
Trafficking in Any Illegal Drug
Possession of Marijuana, 2nd Degree
Drug Paraphernalia
Wendy James (19 of Ider)
Possession of a Controlled Substance
Drug Paraphernalia
Patrick Ridge (20 of Henagar)
Possession of a Controlled Substance
Drug Paraphernalia
Joey Williams (52 of Higdon)
Reckless Endangerment
Drug Paraphernalia
Resisting Arrest
Attempt to Elude
Megan Davidson (20 of Higdon)
Attempting to Elude
Resisting Arrest
Drug Paraphernalia
Cynthia Mooneyham (55 of Geraldine)
Manufacturing of a Controlled Substance
Trafficking of a Controlled Substance
Drug Paraphernalia
Stacie Mooneyham (45 of Fyffe)
Manufacturing of a Controlled Substance
Trafficking of a Controlled Substance
Drug Paraphernalia
James Nelson (47 of Grant, Alabama)
Manufacturing of a Controlled Substance
Trafficking of a Controlled Substance
Drug Paraphernalia
Scottie Ray Guffey (53 of Fyffe)
Possession of Controlled Substance
Possession of Drug Paraphernalia