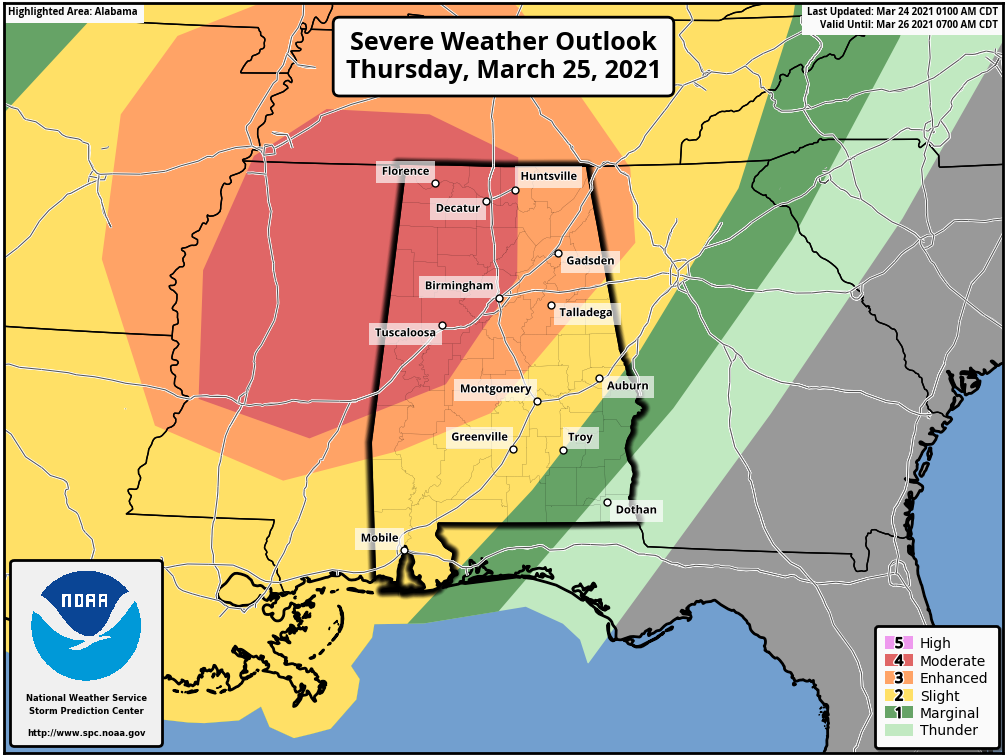 Another dangerous weather day is possible this Thursday, March 25, 2021. Conditions will be MORE FAVORABLE to Tornadoes this Thursday, than on March 17, 2021.
The Storm Prediction Center already has a large part of the Southeast under the risk for Severe Weather tomorrow and we could see that upgraded to a HIGH RISK. This event will include the risk for large hail, damaging winds, Tornadoes, and a few LONG TRACK VIOLENT TORNADOES.
Severe weather is expected to begin early morning, in the western portions of the outlooked areas and continue into the night time hours, in the eastern areas. This Severe weather event will be a little different setup than on March 17, 2021. This event on Thursday will see Severe Weather parameters even higher than they were on March 17, 2021. There will be a larger warm sector, strong low level wind shear, and immense instability and high dew points, which will just be gasoline for these storms to fire up and go Severe. We will see greater instability and a strong low level jet stream, for this Severe Weather event. Conditions are more favorable for a Tornado outbreak this Thursday, than on March 17, 2021.
With this type setup, Long Track, Violent TORNADOES will be possible across the Severe Weather Outlook area on Thursday. Due to the high parameters, The Storm Prediction Center could even upgrade the risk to a HIGH RISK…so please keep up to date with the latest weather information.
If you live in a mobile home, plan now to move to a shelter well in advance of any warnings near your area. This is a very dangerous weather situation.