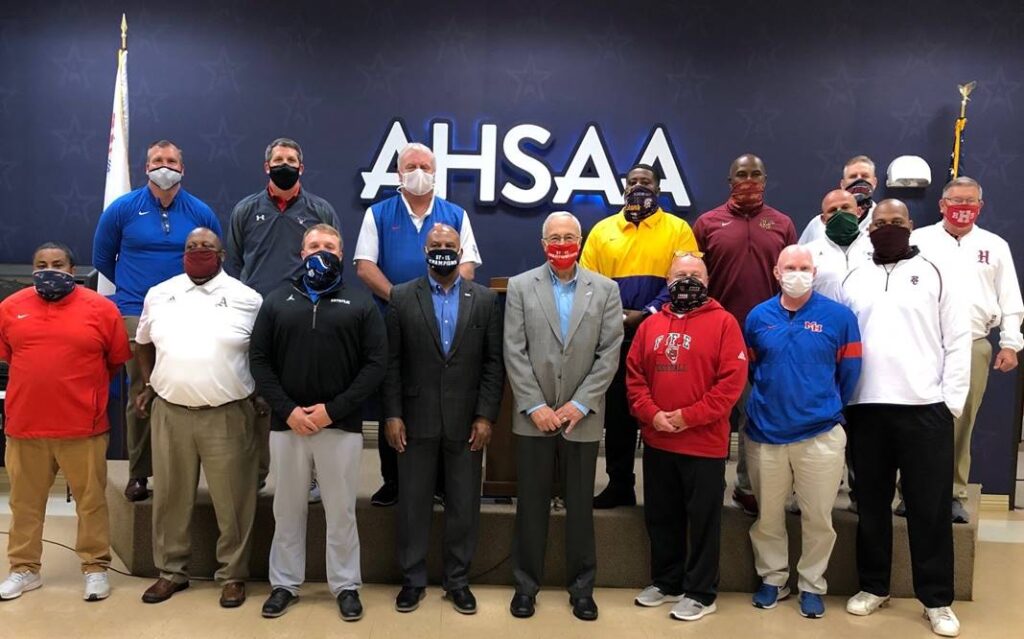 MONTGOMERY – Only two teams winning 2019 state football titles are among the 14 teams advancing to the AHSAA 2020 Super 7 State Football Championships at the University of Alabama's Bryant-Denny Stadium Dec. 2-3-4.

     The semifinals concluded Friday night with 2019 Class 2A state champion Fyffe (14-0) beating defending Class 3A state champion Piedmont 14-6 to advance to Thursday's Class 3A championship game at 10 a.m., to face Montgomery Catholic (12-2). The Red Devils of Coach Paul Benefield won the 2018 and 2019 Class 2A state crowns but moved to Class 3A this season. Fyffe also rolls in to the finals riding a 44-game winning streak overall and 14-game playoff winning streak.

   Defending Class 7A state champion Thompson (13-0) clinch a berth in Wednesday night's Super 7-opening 7A finals versus Auburn (11-1) with a semifinal win two weeks ago over Hoover. The Warriors of Coach Mark Freeman will be riding a 17-game winning streak into Wednesday's 7 p.m. clash and also has a seven-game winning streak in the state playoffs.
    The 7A championship game officially gets the 2020 Super 7 Championships underway at Bryant-Denny Stadium as the only game on the Wednesday, Dec. 2 schedule. The annual Special Olympics Alabama Unified Game normally played on Wednesday afternoon was canceled this season.

    Classes 1A, 3A and 5A play Thursday and Classes 2A, 4A and 6A close out the Super 7 on Friday. Fyffe and Montgomery Catholic, coached by Aubrey Blackwell, open Thursday's play with the morning game. Fyffe will be vying for its fifth state title overall and the Knights are competing in their first Super 7 in school history.

     Linden (14-0) and Pickens County (11-3) will square off at 2:45 p.m., in the Class 1A finals. The Bears of Coach Travis Lockett beat the Tornadoes 38-0 in Linden's season opener on August 28. Coach Michael Williams' squad from Reform is making their first Super 7 appearance since 2017.    
   Thursday's final game at 7:30 p.m., pits St. Paul's Episcopal (14-0) and Pleasant Grove (11-2). The Saints of Coach Steve Mask won three straight 5A crowns from 2015-17, and the Spartans of Coach Darrell LeBeaux lost a nail-biter to Central, Clay County in last year's 5A finals.

    Friday's action gets underway at 10:45 a.m., with Handley (11-1) facing Gordo (13-1) in the 4A championship Game the Tigers of Coach Larry Strain won its last state crown in 2016. The Green Wave, coached by Ryan Lolley, has four state titles to their credit with the last one coming in 2001. Gordo's stadium has been undergoing renovations this season and the Wave has played all its games on the road.

    Abbeville (12-1) takes on Mars Hill Bible (12-2) in the Class 2A final at 2:45 p.m., on Friday. The Yellow Jackets, coached by LaBrian Stewart, are making their first Super appearance and are in the finals for the first time since 1971. Abbeville made history in the championship game by tying Oneonta 0-0 in the state championship game in the AHSAA to end in a tie.  The Panthers, coached by Darrell Higgins, are making their third straight appearance in the state finals – winning the 1A crown in 2018, finishing second last year and now making their first 2A championship appearance.
    Spanish Fort (11-3), coached by Ben Blackmon,  meets Pinson Valley (11-2), coached by Sam Shade, in the 6A finals at 7:30 p.m. The Toros lost a nail biter to Oxford last season at Auburn in the finals and have won four state titles (2015, 2013, 2012 and 2010). Shade, in his first season as head coach for the Indians, has Pinson playing in its third final since 2017. The Indians won back-to-back titles in 2017 and 2018.

     The AHSAA TV Network will televise live all the championship games over the extensive statewide cable network of stations set up by WOTM TV and its executive producer Vince Earley. Games will also be available over the NFHS Network's subscriber-based live-streaming network.

    Please check out the cable listings for your area at the following link and if your area is not included, contact your cable provider.
https://www.ahsaa.com/Portals/0/Sports/Football/Super%207/WOTM-Cities-November2020.pdf?ver=OVOVtQ2dCsWzvgoL086upQ%3d%3d&timestamp=1605813191158
For those without cable, the games will also be live-streamed live over the subscriber-based NFHS Network. To subscribe, go to www.nfhsnetwork.com
AHSAA SUPER 7 STATE CHAMPIONSHIPS
At Bryant-Denny Stadium, Tuscaloosa, Dec. 2-3-4

Wednesday, Dec. 2
CLASS 7A Finals
Auburn (11-1) vs. Thompson (13-0), 7 p.m.

Thursday, Dec. 3
CLASS 3A Finals
Montgomery Catholic (12-2) vs. Fyffe (14-0), 10 a.m.
CLASS 1A Finals
Linden (13-0) vs. Pickens County (11-3),  2:45 p.m.
CLASS 5A Finals
St. Paul's Episcopal (14-0) vs. Pleasant Grove (11-2), 7:30 p.m.

Friday, Dec. 4
CLASS 4A Finals
Gordo vs. Handley, 10 a.m.
CLASS 2A Finals
Abbeville (12-1) vs. Mars Hill Bible (12-2),  2:45 p.m.
CLASS 6A Finals
Spanish Fort (11-3) vs. Pinson Valley (11-2), 7:30 p.m.


Semifinal Results
CLASS 1A
Linden (13-0) 22, Brantley (13-1) 7
Pickens County (11-3) 24, Berry (11-2) 18

CLASS 2A
Abbeville (12-1) 60, Leroy (11-2) 45
Mars Hill Bible (12-2) 32, Spring Garden (12-2) 14

CLASS 3A
Montgomery Catholic (12-2) 35, Montgomery Academy (13-1) 28 (OT)
Fyffe (14-0) 14, Piedmont (12-2) 6

CLASS 4AHandley (11-1) 34, American Christian (13-1) 13
Gordo (13-1) 21, Etowah (10-3) 14

CLASS 5A
St. Paul's Episcopal (14-0) 21, Faith Academy (12-2) 20 (OT)
Pleasant Grove (11-2) 35, Ramsay (12-1) 14

CLASS 6A
Spanish Fort (11-3) 13, Saraland (11-3) 7
Pinson Valley (11-2) 27, Mountain Brook (12-2) 10