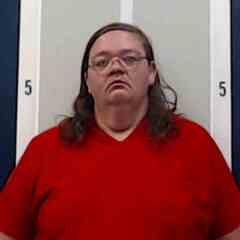 FORT PAYNE, Ala. — Yesterday, DeKalb County Investigators and Deputies made an arrest regarding a car break-in at Dobson Cabinet Shop early Wednesday morning (July 22, 2020) and damage to gates at the Fyffe Town Park. Charges were also finalized on a suspect in unrelated car break-ins and a manhunt in Geraldine last week.
Investigators believe that the suspect was under the influence of narcotics and left her home in Grove Oak in the early morning hours on Wednesday. After damaging her own home, she drove through two locked gates at the Fyffe Town Park causing damage to her vehicle.
Then at approximately 7 am, the suspect broke into a vehicle at Dobson Cabinet Shop at Peak's Corner on County Road 50. The suspect's vehicle was caught on multiple security cameras during the incidents.
Angelia Smith (35 of Grove Oak) was arrested and charged with Unlawful Breaking and Entering of a vehicle. The Fyffe Police Department is pursuing additional charges regarding the damaged gates at the town park.
Also this week, Jonathan Richards (42 of Geraldine) was served all of the warrants regarding the string of car break-ins and ensuing manhunt in Geraldine that occurred last Tuesday (July 14, 2020).
At approximately 1 pm on Tuesday, DeKalb County Investigators went to a residence on Crowe Street in Geraldine in attempt to speak with a suspect regarding the vehicle break-ins the night before. The suspect then barricaded himself in the residence, and shortly after, the house caught fire.
The Geraldine, Crossville, and Fyffe Fire Departments all responded to the blaze. After the fire was extinguished, it was discovered that the suspect escaped. At about the same time, a homeowner on County Road 20 spotted a male on foot matching his description.
Deputies, Investigators, and Task Force Agents treated him as armed and dangerous, as several firearms were stolen the night before. Geraldine and Crossville Police Departments also assisted with the search, along with the ALEA Aviation Unit.
A short time later, the suspect was captured near County Road 104 and was transported to the DeKalb County Detention Center without further incident. Evidence of the break-in was later found at the suspect's residence.
Richards remains in the jail on charges of Burglary 3rd Degree (x2), Breaking and Entering a Vehicle (x9), Theft of Property 2nd Degree (x3), Theft of Property 4th Degree, and Criminal Mischief 3rd Degree. He currently has a $153,500 bond.
DeKalb County Sheriff Nick Welden said of the incidents: "We're blessed to have a dedicated team of investigators here in our county that pursue major crimes as soon as they occur. Our Deputies and Narcotics Agents also do a great job stepping up in major incidents to help get the offender in custody."
"I'd also like to thank the fire departments, local police departments, and the ALEA Aviation Unit that came out to help with the search. It was a team effort to get this dangerous suspect in custody. We also appreciate the citizens who called in with tips," he said.
"God Bless!" Concluded Sheriff Welden.