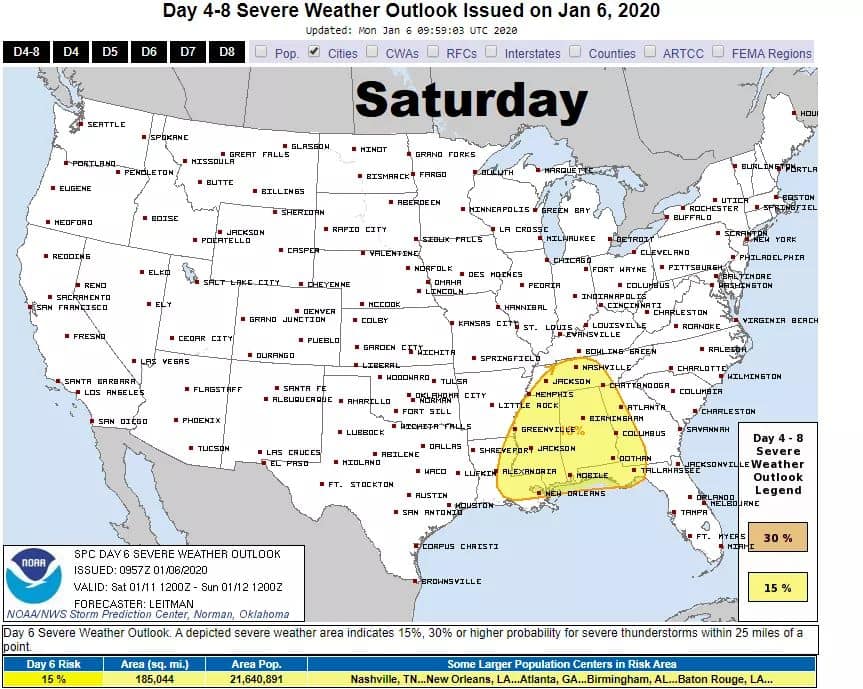 Christmas and New Year's Day are just behind us and we are barley entering the new year and it's January. The last thing of most people's mind is Severe Weather this time of year.
Just because it is January, do not let your guard down. Severe Weather is possible this weekend. Right now, models are coming into agreement of a Significant Severe Weather event for this weekend. The Storm Prediction Center already shows Friday with a categorical risk of 15% and 30%, for Severe Weather, over parts of Texas, Louisiana, and Missouri. This does include the risk of Tornadoes.
On Saturday, that risk moves eastward and there looks to be a Significant Threat for Severe Weather over Mississippi and Alabama. Forecast models show a vigorous upper-level storm system, with a negative tilt, moving out of the southern Plains, accompanied with a 70 knot low-level jet across portions of Mississippi and Alabama, by Saturday morning. A Significant Severe Weather event, with TORNADOES, looks to be setting up for Saturday across this region (Mississippi and Alabama).
Again, we are still 6 days away, things can and do change, but right now, there is a high probability some areas across the South will see Severe Weather Friday and Saturday.
Plan now, spread the word and let your family and friends know there is a chance of Severe Weather for Friday and Saturday.