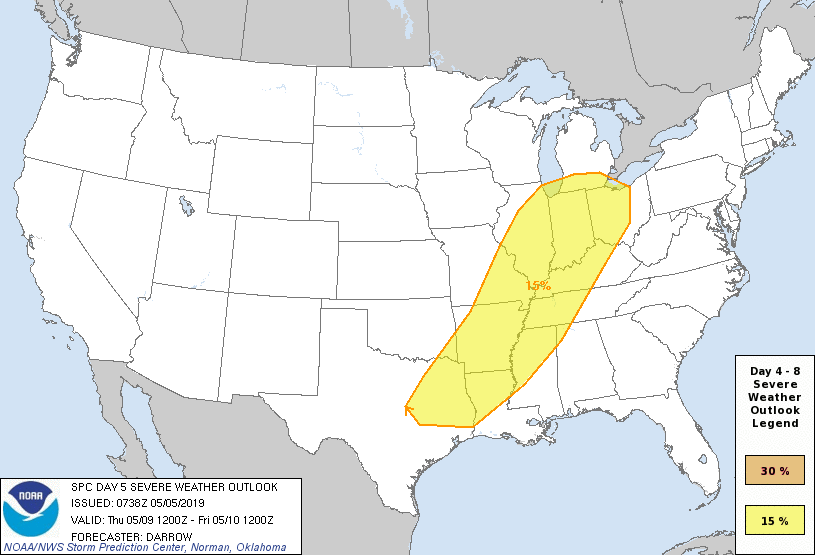 It is difficult to make an exact forecast or prediction for Severe weather, five days out. But there is enough evidence in the current models for the Storm Prediction Center to go ahead and put out the following information. It is to far out, right now, to do a prediction for Thursday, May 9, 2019, but assume that the Severe weather outlined for Wednesday, will continue its march eastward and effect the Alabama, Tennessee, and Mississippi area on Thursday sometime.
The Storm Prediction Center's wording for Tuesday & Wednesday, "Significant Severe is expected during the first few days of the medium-range period." (this would be Tuesday & Wednesday). "Models are in general agreement in regards to the evolution of a strong southwestern US trough as it ejects into the middle of the country. Strong convection will likely be noted across the southern Plains during the day 3 period (Tuesday) and the degree of convective overturning may partially influence severe development later Wednesday."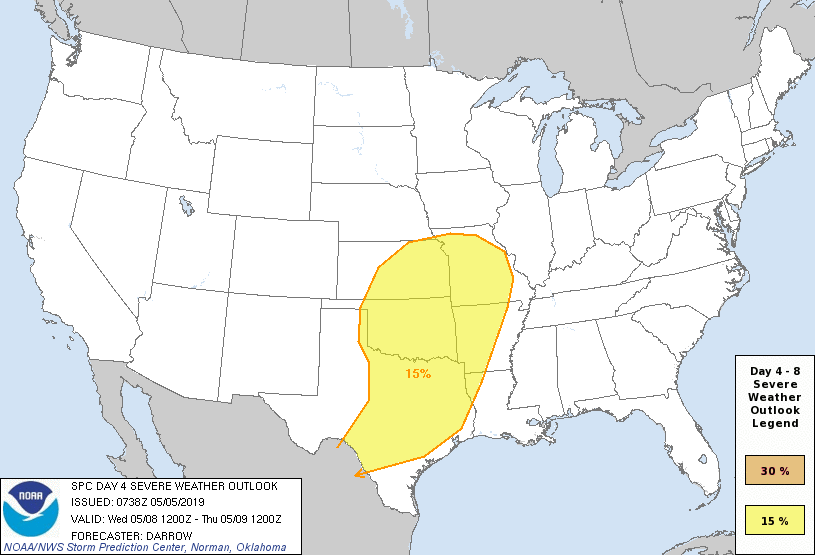 On Tuesday, the setup may be a large-scale Severe weather event, including supercell thunderstorms for OK & TX area. This event will move eastward on day 5, Wednesday, along/ahead of a cold front as it surges eastward. This will affect areas from the Great Lakes to eastern Texas, including the Ohio and Tennessee Valley's. (click on image for Severe Weather outline for each day).
There is the chance for a major Severe Weather event across the south, starting as early as Wednesday for Northwestern parts of Alabama and western Tennessee. Again, this event will start as early as Monday for OK and TX and move eastward through the week. We will update the timing as we get closer and model runs get more accurate. This Severe Weather event will produce large hail, damaging winds, and Tornadoes across the outlooked areas…so remain weather alert on Wednesday and Thursday