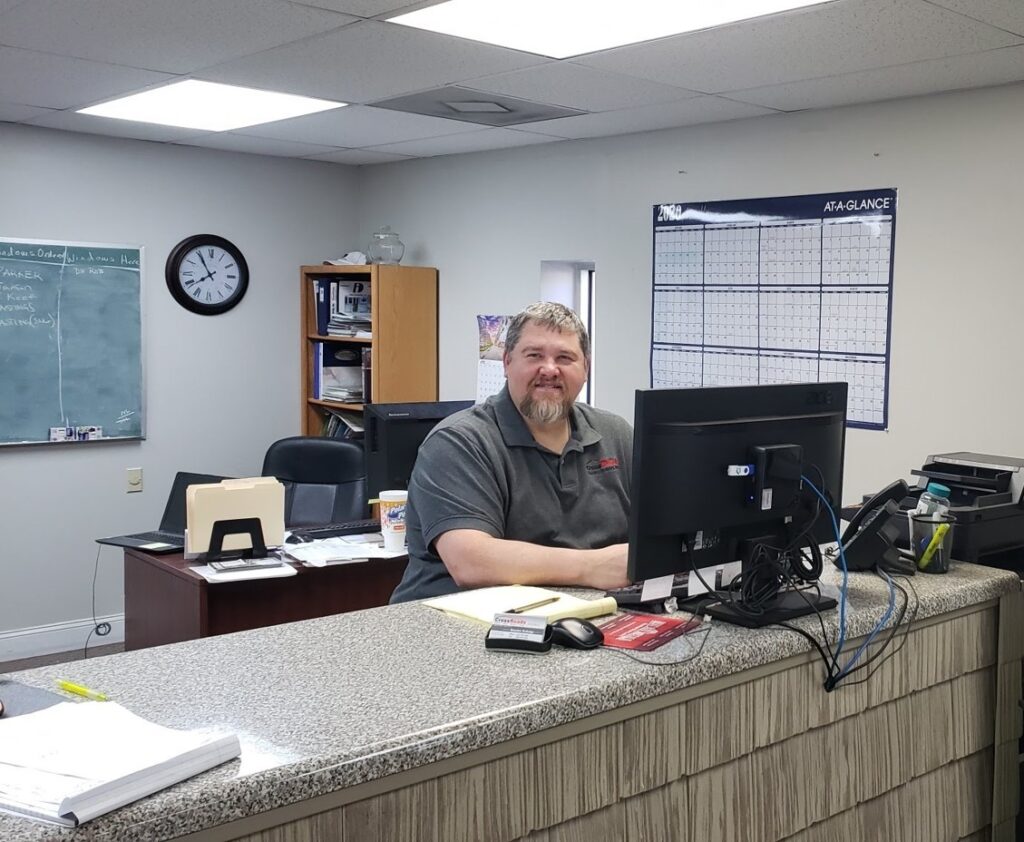 There is no better time than the present to take advantage of the Google IT Support Professional Certificate now being offered at Northeast Alabama Community College (NACC). This certificate is sure to be of use to you if you are thinking about changing careers or adding to your resume during this time.
Northeast President Dr. David Campbell is especially proud to offer this opportunity to the community. "I really encourage people to take advantage of this opportunity. We are a partner with Google on this, one of the few colleges in America that has the Certificate partnership," said Dr. Campbell. He continued, "The Google Widow's Creek Data Center is in the college's service area. Google has been a great community partner since their presence in the area."
We asked course instructor Bryon Miller to answer a few questions about the course.
Why should someone take advantage of the Google IT Support Professional Certificate course?
The course is 100% online and can be completed from home. It helps prepare students for entry-level IT support positions, which continue to be high-demand career paths. In today's world, every company is a tech company. The skills in these courses are relevant to many fields, and many companies are searching for employees with said skills.
What is included in the course content, and how difficult is it to compete?
The program is broken down into five courses. Course titles include Technical Support Fundamentals, The Bits and Bytes of Networking, Operating Systems and You: Becoming a Power User, System Administration and IT Infrastructure Services, and IT Security: Defense Against the Digital Dark Arts. There are no prerequisites for these courses. The first course covers the basics and assumes that a student only has a basic understanding of how to operate a computer. Students continue in courses training students in various areas of IT. The courses are a unique blend of content from Google (via Coursera) and NACC including videos, reading material, virtual labs, quizzes, and discussions with other students.
What can students expect to gain from completing the certificate?
Students taking the courses for credit through NACC will obtain two college credit hours for each course they complete for a total of ten credit hours. These credits may be counted toward degrees at NACC such as the Associate in Applied Science in Computer Information Systems. Students who complete all of Google's required coursework will also obtain the Google IT Support Professional Certificate, which is a nationally-recognized credential issued by Google.
After completing the course and earning the certificate, students will be able to apply for entry-level IT positions with various companies like Google! These positions are in high-demand, high-pay fields. One example is the Computer User Support Specialist. The US Bureau of Labor Statistics (BLS) lists it as growing "faster than average" with over 863,000 of these positions in existence. Google estimates that there are over 215,000 IT support positions open in the US. Further, the US BLS finds that the median annual salary for these positions is $54,760 per year.
How long does it take to complete the course?
Google estimates the program to take about six months, so students starting this summer could be Google IT Support Professional certified by the end of the year!
"I'm excited that we are finishing up the first course and getting started with the next batch of courses this summer. I believe that we are empowering people in our community and preparing them not only for the jobs of the future but also for the jobs of today," said Miller.
Since the certificate is all online, students can sign up for it anywhere – be admitted to the college, register, take the courses and never come to the college. Google also provides a personal advisor to assist students online.
"This came be a game changer for anyone's life or career. The certificate is nationally recognized and can open the door to work at not only Google but many other leading American companies. If you already or a computer specialist of some kind, the certificate can advance your career by building your resume. Don't miss this opportunity!" said Dr. Campbell.
Student Brandon Rutledge is happy to have the opportunity to earn this certification. "Computers have been a vital part of my life since my late teens. They give me the tools I need all in one place to succeed in my job. I missed the opportunity to get in on the ground floor of the IT industry. When I learned that Northeast Alabama Community College was offering the Google-sponsored IT Support Certificate, I knew it was time for me to begin the transition. My diverse skills coupled with my customer service background, along with the certificate, would make me a great fit for a future role," said Rutledge.
Students wishing to take the course for course credit may also be eligible for financial aid. There has never been a better time to get started than now. "It isn't too late or too early, you don't have to be a wizard with computers to do well in the course. Anyone that wants to learn these skills, can! We are using technology now more than ever and we need skilled people to keep it going." said Miller.
To learn more about the course and enroll, email Byron Miller at [email protected]. Visit us online at nacc.edu or follow us on our social media platforms to stay up to date with all things NACC.