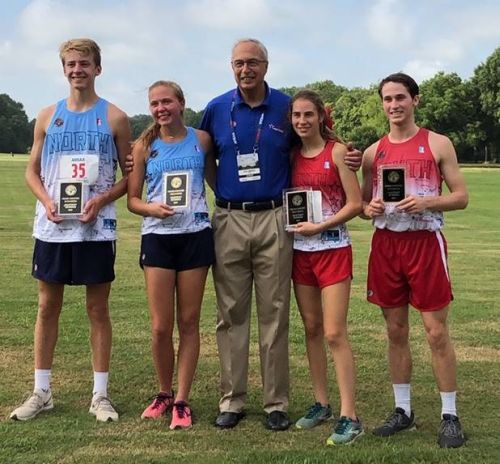 MONTGOMERY – The South girls' placed four runners in the top five finishers Wednesday morning to beat the North 19-36 in the third annual North-South All-Star Cross Country competition being held at Auburn-Montgomery University as part of the AHSAA All-Star Sports Week and Summer Conference.
The North boys' team won a close 27-28 victory over the South in the North-South boys' race. All participants were rising seniors.
Leading the South, coached by Paul Agnew of Baker High School, was Samantha Rogers of Auburn. She finished fifth in the AHSAA Class 7A state championships last fall and clocked 19:22.20 at AUM's course to win the girls' race Wednesday. She was awarded the South Fastest Runner Award. McGill-Toolen Catholic's Claire Bolton was second at 20:01.30, Bolton was eighth in the 7A state meet in 2018. Rounding out the top five finishers were Isabel Valenzuela of St. Paul's Episcopal (20:28.20), Leslie Baxter of Baker (21:13.60) and the Maggie Crow of Fort Payne (21:22.20). Crow received the North Fastest Runner Award. The North team was coached by David Dobbs of Hewitt-Trussville.
Coaches for the boys' teams were Huntsville's Blake Borden (North) and Jonathan Fischer of Beauregard (South).
The boys' competition was fierce with only 63 seconds separating the top 10 finishers. Guntersville's Sam Moultrie, who was 13th in the Class 5A state championships last fall, nipped North teammate Will Thompson of Cullman by 1.6 seconds to win the North-South boys' race Wednesday. Thompson was 14th in the Class 6A state championships.
Crossing in third place Wednesday morning 2.3 seconds behind the leader was South runner Judson Hardin of Alabama Christian with a time of 16:48.20. South runners Carson Barlow of Baker (17:11.80) and Ethan Rowe of Daphne (17:22.10) to finish fourth and fifth.
The Alabama High School Athletic Directors & Coaches Association (AHSADCA) hosts the North-South All-Star competition held annually at the AHSAA Summer Conference. The conference, which includes more than 4,000 coaches and administrators, is being held at the Montgomery Renaissance Hotel and Convention Center through Friday.
The North-South All-Star boys' and girls' soccer competition will be held at Emory Folmar Soccer Complex at AUM today beginning with the girls' match at 5 p.m. The boys will follow at 7. The North-South girls' softball doubleheader will also get underway at Lagoon Park at 5 p.m. The all-star competition closes out Thursday with North-South golf and tennis for boys and girls at Montgomery Country Club. Golf tees off at 8 :30 a.m., and tennis commences at 10 a.m. The North-South Volleyball All-Star match will be at the Cramton Bowl Multiplex at 4 p.m., Thursday, and the 60th annual North-South All-Star Football Classic closes out the all-star competition at 7 p.m. at Cramton Bowl.
The Central-Phenix City NFHS Network School Broadcast Program is producing the NFHS Network's livestreaming. Tom Loreman is the producer with Central students Haley McDonald, Ellison Laney and Emma Spitnagel are serving as the Network crew. Stephanie Snyder of the Goshen High School NFHS Network SBP is also producing the soccer competition today.
BANQUETS SET FOR FRIDAY: The AHSAA Sportsmanship Luncheon Friday at noon at the Renaissance will honor 99 high schools that completed the 2018-19 school year without an ejection or sportsmanship-related fine. Eight schools, one from each district, will receive the AHSAA Sportsmanship $1,000 Grant for their exemplary commitment to good sportsmanship.
The AHSAA Championship Coaches Awards Banquet will be Friday night at the Renaissance at 6 p.m. All 2018-19 state championship coaches are being recognized as well as seven individuals who will are receiving the AHSAA Making a Difference Award. Those individuals include: principal John Hardin of Hackleburg High School (1A); volleyball and basketball coach Lisa Bates of Sand Rock (2A); principal Willie Wright of Pike County (3A); softball coach Chris Goodman, Alabama Christian (4A); football coach Rush Holcomb, Hamilton High School (5A); radio personality D. Mark Mitchell of Opelika (6A); and Jefferson County Schools Athletic Director Ken Storie (7A).
The AHSAA Officials' Awards luncheon will close out the week Saturday at the Renaissance at 11:30 a.m.


2019 North-South Cross Country Results
South Girls 19, North Girls 36
GIRLS' INDIVIDUAL RESULTS
Samantha Rogers, Auburn (S) 19:22.20
Claire Bolton, McGill-Toolen Catholic (S) 20:01.30
Isabel Valenzuela, St. Paul's Episcopal (S) 20:28.20
Leslie Baxter, Baker (S) 21:13.60
Maggie Crow, Fort Payne (N) 21:22.20
Emily Daniel, Lawrence County (N) 21:32.20
Jayda Fair, Ohatchee (N) 21:44.70
Sabina Ortiz, Mountain Brook (N) 21:53.50
Sarah Parnell, Auburn (S) 22:03.60
Sarah Lewis, Grissom (N) 22:04.60
Alex Pitts, Mountain Brook Catholic( N) 22:12.70
Katherine Rush, St. Paul's Episcopal (S) 22:27.90
Kasey Ezekial, Colbert Heights (N) 22:59.60
Jaycee Biffle, Rogers (N) 23:04.50
Brooke DuPlantier, Fairhope (S) 23:35.90
Allison Boyd, St. Michael Catholic (S) 24:11.90

North Boys 27, South Boys 28
BOYS' INDIVIDUAL RESULTS
Sam Moultrie, Guntersville (N) 16:44.90
Will Thompson, Cullman (N) 16:46.50
Judson Hardin, Alabama Christian (S) 16:48.20
Carson Barlow, Baker (S) 17:11.80
Ethan Rowe, Daphne (S) 17:22.10
Savian Taylor, Smiths Station (S) 17:29.80
Andrew Roberts, McGill-Toolen Catholic (S) 17:32.30
Raleigh Stamps, Rogers (N) 17:35.20
Mac Brooks, Hewitt-Trussville (N) 17:45.90
Cole Arrington, Auburn (S) 17:47.80
Tyler Rathburn, Enterprise (S) 18:23.00
Myles Cook, Bayside Academy (S) 18:33.40
Cole Akridge, Cold Springs (N) 18:57.40
Luke Larson, White Plains (N) 19:11.40
Caleb Guthery, Saint Bernard Prep (N) 19:42.60
Joseph Perrella, Beauregard (S) 20:20.30
Justin Porterfield, Zion Chapel (S) 20:57.50
Guy Greenhaw, Athens (N) 21:17.10
2019 North-South All-Star Results
Girls' Basketball
North 65, South 56 (North leads series 20-3)
Boys' Basketball
South 88, North 75 (North leads series 48-29)
Baseball
South 16-18, North 7-16 (North leads series 23-14-1)
Cross Country
South Girls 19, North Girls 36 (South leads series 2-1)
North Boys 27, South Boys 28 (North leads series 2-1)
Soccer (at Emory Folmar Soccer Complex, AUM, July 17)
North-South Girls' match, 5 p.m. (North leads series 15-2-1)
https://www.nfhsnetwork.com/events/centralphenix-city-high-school-phenix-city-al/gam30244154dd
North-South Boys' match, 7 p.m. (North leads series 11-4-1)
https://www.nfhsnetwork.com/events/centralphenix-city-high-school-phenix-city-al/gam5fa5c4053d
Softball (at Lagoon Park, July 17)
North-South doubleheader, 5 & 7 p.m. (North leads series 25-21-3)
https://www.nfhsnetwork.com/events/centralphenix-city-high-school-phenix-city-al/gam6cfe9fbf5d
Golf (at Montgomery Country Club, July 18)
North-South Boys' & Girls' matches, both tee off at 8:30 a.m. (first in the series)
Tennis (at Montgomery Country Club, July 18)
North-South Boys' & Girls' matches, both start at 10 a.m. (first in the series)
Volleyball (at Cramton Bowl Multiplex, July 18
North-South match, 4 p.m. (North leads series 14-7)
https://www.nfhsnetwork.com/events/centralphenix-city-high-school-phenix-city-al/gamdcca0ee130
Football (at Cramton Bowl, July 18)
60th North-South Game, 7 p.m. (South leads series 30-27-2)
https://www.nfhsnetwork.com/events/centralphenix-city-high-school-phenix-city-al/gamcac055cd38