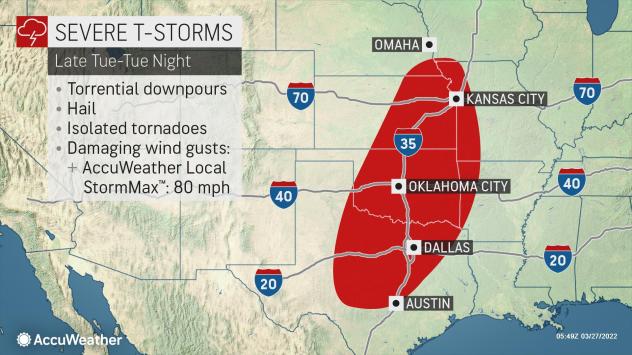 AccuWeather Global Weather Center – March 27, 2022 – AccuWeather forecasters say the atmosphere over the southern United States is set to become primed for explosive weather in the days ahead. Residents in portions of the South still reeling from last week's bout of destructive weather may find themselves in the path of Mother Nature's wrath once again this week.
The storm that is ultimately forecast to touch off potentially destructive weather across portions of the Central and Eastern states will first bring much-needed rain to the Southwest at the start of the week. The energy from this storm is set to push eastward early this week and ultimately eject out of the Rockies on Tuesday.
Once this storm reaches the Plains, potent weather will be off to the races. Moist air from the Gulf of Mexico will be pulled northward and meet a zone of unseasonably warm conditions in places across many of the South Central states. High temperatures will soar 10-20 degrees Fahrenheit above normal from Sunday to Tuesday across a majority of the southern Plains.
The combination of this moisture and heat, along with strong winds developing in the upper levels of the atmosphere, are exactly the ingredients necessary to set the stage for a potential outbreak of severe weather.
Tuesday evening through Tuesday night, the threat for severe weather will center over a swath of the central United States from central Texas, north to far southeastern Nebraska and east into portions of Missouri and Arkansas.