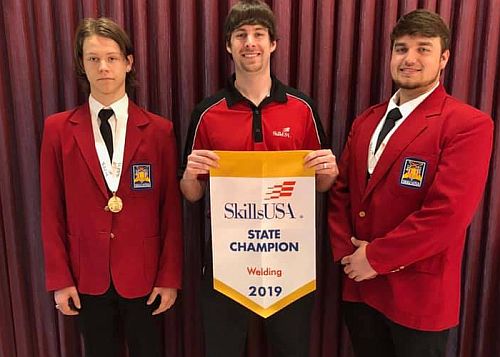 On April 16, 2019 DCTC Welding Instructor Russell McFall took 3 students that had earned their way to the SkillsUSA Alabama State Welding Contest held at Wallace State Community College. Five districts across the state brought their top 3 students to compete for the state title. The contest consisted of an advanced and beginner category.
Advanced students had to complete 4 welding projects using 4 different processes for each one in multiple positions along with an oxy fuel cutting project, in addition to multiple written exams. Dakota Atchley from Sylvania High School received a gold medal for placing 1st in the advanced category.
Beginner students had to complete a welding project with 2 different welding rods in multiple positions using the stick process along with a written test. Payton Ervin from Fort Payne High School received a gold medal for placing 1st in the beginner category. Because these two young men won their respective categories, they will go on to represent the state of Alabama for the National title competition in Louisville Kentucky.
McFall added, "This is an exciting time for me because these are my first state championship winners since I've become an instructor. To win both welding categories at the state level is so hard to do. I'm so proud of my students because they earned it with all of their hard work and skill. Dakota Atchley will get to represent the state of AL at nationals held in Louisville KY. The Nationals level is extremely hard to win but we will try our best." DeKalb County Career Tech Director Jonathan Phillips stated, Congratulations to Dakota, Payton, and Mr. Russ McFall on winning state championships. I'm proud of what DaKota and Payton have accomplished. I look forward to seeing what these young men will achieve in the future. Mr. McFall does an outstanding job of preparing his students for lasting careers in the field of welding.