Brace For Impact…Winter Returns. Winter Storm Warnings Issued
The National Weather Service has issued Winter Weather Warnings and Advisories across a large part of the United States, for a major winter storm this weekend.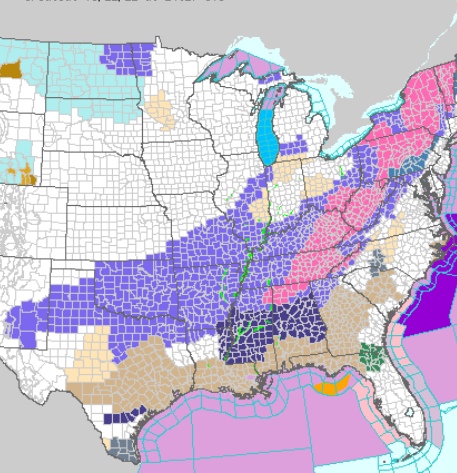 Impacts will be felt across the depth South as well. Most of Alabama, all of Tennessee, and most of Mississippi are under either a Winter Storm Warning or Advisory, beginning at 9:00 PM Friday (tonight) through 9:00 AM Saturday.
Rain should begin across North Alabama this evening and then changing over all to snow by after midnight. Snow if forecast to be heavy at times overnight tonight. Winds will be gusting as high at 45 mph, temperatures will also nose dive down to around 20 degrees tonight and wind chill values will be in the single digits. Saturday temperatures will only reach the low 30's and with the gusty winds, wind chills will remain in the single digits most of the day.
Saturday night, temps across North Alabama will drop to around 15 degrees. On the positive side, by Sunday, temperatures should climb back up to the 50's.
Use extreme caution Friday night through Sunday morning, as many roadways will have travel issues from snowfall.