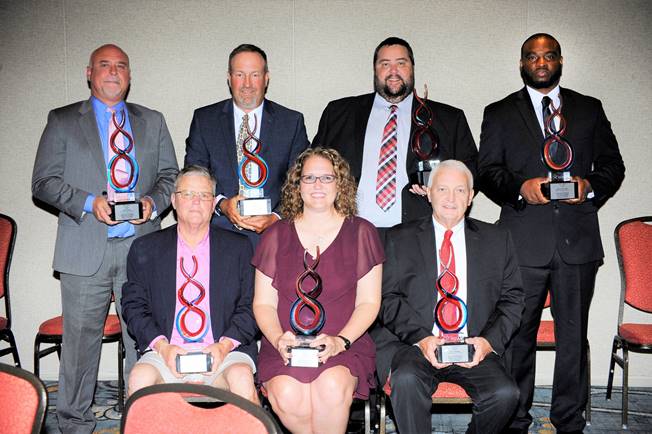 MONTGOMERY – Seven individuals were recognized Friday night at the AHSAA's 23rd  annual AHSAA Championship Coaches' Awards Banquet as recipients of the prestigious "Making A Difference" Award as the 2019 AHSAA Summer Conference concluded at the Montgomery Renaissance Hotel and Convention Center.
    The week-long conference, which attracted more than 4,500 administrators, coaches and other support personnel from AHSAA member schools to Montgomery, was hosted by the Alabama High School Athletic Directors & Coaches Association (AHSADCA). It included 16 North-South all-star competitions during the week – for the sports of baseball, softball, boys' and girls' soccer, boys' and girls' basketball, boys' and girls' cross country, volleyball, football, and for the first time boys' and girls' tennis and golf. The North beat the South 27-14 in the 59th playing of the North-South football all-star game to close out all-star play Thursday night.
    Secretary of State John Merrill was the keynote speaker at Friday's awards banquet recognized 113 state championship coaches who led teams to state titles in the AHSAA's championship programs in 2018-19 as well as honoring several others for outstanding service or accomplishment. 
   The highlight of Friday's banquet was the "Making A Difference" Award, however, now in its ninth year. One AHSAA member school coach, administrator or contributor was honored in each classification for their contributions to their schools and communities that help change lives in daily in a positive way.
    The recipients were: retiring principal John Hardin, Hackleburg High School (1A); special education coordinator, volleyball and girls' basketball coach Lisa Bates of Sand Rock High School (2A); principal Willie Wright of Pike County High School (3A); softball coach Chris Goodman of Alabama Christian Academy (4A); assistant football coach Rush Holcomb of Hamilton High School (5A); Opelika legendary radio personality and long-time "Voice of the Bulldogs" D. Mark Mitchell (6A); retiring Jefferson County Schools Athletic Director Ken Storie (7A).
   Several other special awards were presented including the NFHS Section III "Spirit of Sport" Award recipient Zoe Portis, who graduated from Trinity Presbyterian School in the spring of 2018; NFHS National Cheer Coach of the Year Sandra Seals of Winfield High School; and Section III Coaches of the Year Chad McKnight, Samson High School (girls' basketball); Shawn Weltzin, Thompson High School (wrestling); and Seals (cheer).
    Portis, who was the AHSAA Bryant-Jordan Class 4A Student Achievement winner in 2018, went from being an orphan in Africa to becoming an honor student at Trinity Presbyterian School in Montgomery after she was adopted by the Portis family when she was a small child. Her story of perseverance, faith and character has been an inspiration to the state and nation.
   Heath Thrash of Fyffe High School was honored by the AHSADCA as the AHSAA 2019 Athletic Director of the Year.
    Other special awards included:
NFHS State Coaches of the Year: Twenty-two outstanding AHSAA coaches were selected 2018 NFHS state coach of the year in their respective sports: Zachary Blume, Southside-Gadsden (girls' bowling); Brittney Carnell, Buckhorn  (boys' bowling); Matt Cimo, Auburn (baseball); Analyn Coker, Trinity Presbyterian (girls' soccer); Jeff Dellinger, Auburn (girls' swimming); Brandon Easterwood, Springville (softball); Arthur Fortin, Huntsville (boys' swimming); Ashley Jackson, Fort Payne (girls' cross country); Kevin Klein, Houston Academy (boys' golf); Megan Liljenquist, Northridge (girls' tennis); Christian Matthews, Jasper (boys' tennis); Sean McBride, Homewood (boys' soccer); Dave McConnell, Whitesburg Christian (girls' track); Chad McKnight, Samson (girls' basketball); Bucky McMillan, Mountain Brook (boys' basketball); Stasha Morrison, Northside (girls' golf); Benjamin Robinson, Scottsboro (track); Sandra Seals, Winfield (cheer); Clinton Smith, Hillcrest-Evergreen (football); Charles Tiller, American Christian (boys' track); Whitney Welch, Alexandria (volleyball); and Shawn Weltzin, Thompson (wrestling).
Children Scholarship Recipients: Ten students, each a child of an AHSADCA member coach or administrator, also received the AHSADCA's Coaches' Children Scholarships. They were:
District 1: Sally Caroline Davis, Spanish Fort HS (daughter of  Charles and Courtney Bishop).
District 2: Samantha Lee Adams, Carroll (daughter of Kirke and Angie Adams).
District 3: Allyn Browning, Saint James (daughter of Jerry and Suzy Browning).
District 4: Jack Edward Gant III, Tallassee HS (son of Eddie and Terina Gantt).
District 5: Caleb Austin Huber, Vestavia Hills HS (son of Brett and Patty Huber).
District 6: Preston Odom, Piedmont HS (son of Jonathan and Leah Odom).
District 6: Avery Bobbitt, Piedmont HS (daughter of Michael Bobbitt and Kelli Winkles).
District 7: Robert Mason Lambert, Haleyville HS (son of Andy and Amber Lambert).
District 7: Abram Peoples, Muscle Shoals HS (son of Scotty and Tonya Peoples).
District 8: Cassie Black, Geraldine HS (daughter of Cale and Ami Black).

Eight Schools Receive AHSAA Sportsmanship Grants: Eight of the 99 high schools that were recognized at Friday's 11th annual AHSAA Sportsmanship Luncheon were recipients of a $1,000 AHSAA Sportsmanship Grant. 
   The recipients this year were: Williamson HS (District 1); McKenzie HS (District 2); Calhoun HS (District 3); Central Coosa HS (District 4); Woodlawn HS (District 5); Alabama School for the Blind (District 6); Colbert Heights HS (District 7); and Athens Bible School (District 8).  The schools were selected from the 99 that completed the 2018-19 school fine and ejection free.
Eight Schools Receive FutureOnes $500 Grant:
   In addition, new AHSAA Corporate Partner Future Ones, which specializes in sports uniforms and other cloth wear, presented eight $500 product gift certificates to eight schools as well. Those included: J.F. Shields HS (District 1); Abbeville HS (District 2); A.L. Johnson HS (District 3); Loachapoka HS (District 4); Parker HS (District 5); Ragland HS (District 6); Sheffield HS (District 7); and Valley Head HS (District 8).