All Defending State Champions Claim First Round Wins to Move into Second Round of Playoffs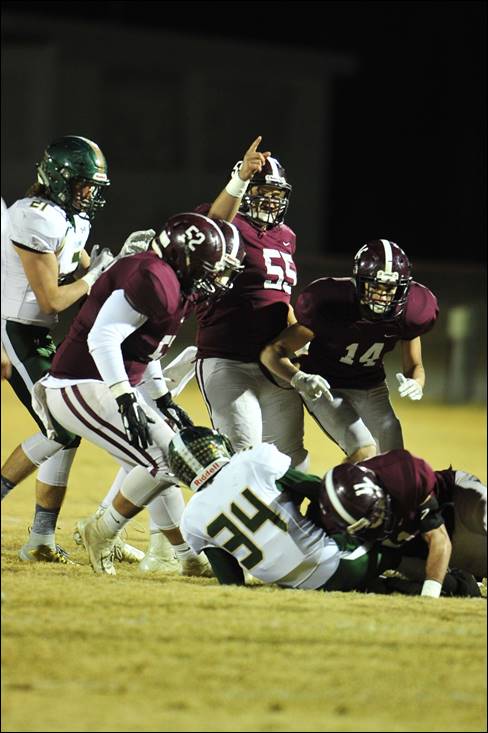 All Defending State Champions Claim First Round Wins to Move into Second Round of Playoffs
    
MONTGOMERY – All of the seven the defending state football champions posted first-round wins as the AHSAA opened the 54th annual State Football Playoffs Friday night.

Eight No. 4 seeds were among the 104 teams advanced in all seven classes with second-round games set for Friday, Nov. 15. All four qualifiers from Class 3A, Region 6 and Class 6A, Region 6 also advanced.

In Class 6A, Region 2 fourth seed Park Crossing (4-7) of Montgomery, coached by Clayton Harris, beat previously unbeaten Saraland (10-1), the No. 1 seed in Region 1, 30-27, to earn a home game Friday against Stanhope Elmore (9-2) of Millbrook. In Class 3A, T.R. Miller (6-5) improved its Class 3A-leading overall playoff record to 88-32 with a 25-13 victory over Pike County (10-1), which rolled through the regular season unbeaten to win the Region 2 title. The Tigers of Coach Brent Hubbert finished fourth in Region 1.

WOTM TV's Vince Earley announced Saturday that the AHSAA TV Network / NFHS Network (WOTM) game of the week will defending Class 5A state champion Central of Clay County (9-2) at unbeaten Jasper (11-0) Friday. The two teams met in the regular season with the Vikings of Coach Bryan Moore won 35-34 over Coach Danny Horn's Volunteers. Earley announced the second AHSAA TV Network game selected to be televised live will be Geraldine (7-4) at B.B. Comer (6-5) at Legion Stadium in Sylacauga. The Tigers were another No. 4 seed that upset a No. 1 seed. Coach Adam Fossett's squad beat Region 5 top seed Fultondale 28-19.

B.B. Comer's win gave Class 3A, Region 6 a sweep as Piedmont (10-1), Randolph County (10-1) and Walter Wellborn (10-1) all advancing with win. Class 6A, Region 6 also swept its four contests with two-time defending state champion Pinson Valley (8-2) downing Homewood 427 to move to round 2. Other Region 6 winners were Oxford (10-1), Clay-Chalkville (9-2) and Gardendale (8-3).

Class 7A defending champion Central-Phenix City (10-1) topped Fairhope 45-7; two-time Class 4A defending champion UMS-Wright (9-0) beat Dale County 51-7 for the Bulldogs' 29th straight win; Class 3A defending champ Flomaton (10-1) beat Opp 58-28; Class 2A defending champ Fyffe (11-0), which has outscored opponents 479-23 this season, shut out Sheffield 48-0 for the Red Devils' ninth shutout of the season and 25th straight win; and defending 1A state champ Mars Hill Bible (11-0) won its 21st straight game with a 63-7 decision over Woodville.

Unbeaten teams by class still in the playoffs include: Class 1A: Decatur Heritage (11-0); Isabella (11-0); Lanett (10-0); Mars Hill Bible (11-0);  Class 2A: Fyffe (11-0); Luverne (11-0); Ohatchee (10-0); Red Bay (11-0);  Class 3A: Pike Road (11-0); Susan Moore (11-0); Class 4A: Montgomery Catholic (11-0); UMS-Wright (10-0); Class 5A: Bibb County (11-0); Faith Academy (11-0); Jasper (11-0); Class 6A: Muscle Shoals (11-0); Class 7A: McGill-Toolen Catholic (11-0).

Approximately 25 playoff games are expected to be live-streamed in the second round over the NFHS Network.

The second-round playoff pairings are listed.

2019 AHSAA State Football Playoffs
Second-Round Pairings
All games Friday, Nov. 15, 7 p.m.
CLASS 1A
Maplesville (8-2) at Sweet Water (9-1)
Notasulga (6-4) at Brantley (10-1)
Elba (8-3) at Lanett (10-0)
Millry (10-1) at Isabella (11-0)

Spring Garden (10-1) at Hackleburg (5-6)
Pickens County (9-2) at Falkville (7-4)
South Lamar (10-1) at Mars Hill Bible (11-0), Florence
Donoho (9-1) at Decatur Heritage (11-0), West Morgan HS Stadium

CLASS 2A
Goshen (8-3) at Leroy (9-2)
LaFayette (6-4) at Ariton (9-2)
Reeltown (10-1) at J.U. Blacksher (9-2), Uriah
Luverne (11-0) at G.W. Long (9-2), Skipperville

Westbrook Christian (8-3) at North Sand Mountain (8-3), Higdon
Collinsville (10-1) at Ohatchee (10-0)
Ranburne (10-1) at Fyffe (11-0)
Sulligent (9-2) at Red Bay (11-0)

CLASS 3A
Saint James (10-1) at Flomaton (10-1)
T.R. Miller (7-4) at Montgomery Academy (7-4)
Providence Christian (10-1) at Gordo (11-0)
Mobile Christian (6-4) at Pike Road (11-0)

Geraldine (7-4) at B.B. Comer (6-5), Sylacauga
Lauderdale County (9-2) at Piedmont (10-1)
Randolph County (10-1) at Westminster Christian (8-2), Huntsville
Susan Moore (11-0) at Walter Wellborn (11-1), Anniston

CLASS 4A
UMS-Wright (10-0) at Talladega (7-5)
Handley (7-4) at Montgomery Catholic (11-0)
Lincoln (9-2) at Andalusia (8-3)
Hillcrest-Evergreen (7-4) at American Christian (10-1), Tuscaloosa

Priceville (8-3) at Northside (10-1)
Jacksonville (9-2) at St. John Paul II Catholic (9-2)
Oneonta (8-3) at Deshler (8-3). Tuscumbia
Fairview (8-2) at Anniston (7-4)

CLASS 5A
Faith Academy (11-0) at Pleasant Grove (10-1)
Ramsay (9-2) at Valley (7-4)
Briarwood Christian (10-1) at Jackson (6-5)
Bibb County (10-0) at Greenville (7-4)

Mortimer Jordan (9-2) at Guntersville (8-2)
Scottsboro (9-2) at Center Point (8-3)
Alexandria (8-2) at Madison County (9-2), Gurley
Central-Clay County (9-2) at Jasper (11-0)

CLASS 6A
Stanhope Elmore (9-2) at Park Crossing (4-7), Montgomery, Cramton Bowl
Spanish Fort (6-4) at Wetumpka (6-5)
Eufaula (9-2) at Hueytown (10-1)
St. Paul's Episcopal; (8-3) at Opelika (9-1)

Athens (8-3) at Clay-Chalkville (9-2)
Oxford (10-1) at Cullman (6-5)
Pinson Valley (8-2) at Fort Payne (9-2)
Muscle Shoals (11-0) at Gardendale (8-3)

CLASS 7A
Prattville at Central-Phenix City (10-1)
Auburn (8-3) at McGill-Toolen Catholic (11-0), Mobile, Lipscomb Stadium

Hoover (9-2) at James Clemens (9-2), Madison City Stadium
Florence (7-4) at Thompson (9-1), Alabaster
First-Round Results
CLASS 1A
Sweet Water (9-1) 53, Georgiana (5-6) 0
Maplesville (8-2) 56, Billingsley (5-6) 6
Brantley (10-1) 72, Fruitdale (5-6) 32
Notasulga (6-4) 7, Linden (5-5) 6
Lanett (10-0) 55, Keith (6-5) 0
Elba 8-3) 21, Marengo (6-5) 8
Isabella (11-0) 46, Wadley (5-5) 20
Millry (10-1) 48, Florala (7-4) 18

Spring Garden (10-1) 28, Hubbertville (6-5) 20
Hackleburg (5-6) 34, Valley Head (6-5) 19
Pickens County (9-2) 31, Victory Christian (6-5) 14
Falkville (7-4) 47, Waterloo (8-3) 19
Mars Hill (11-0) 63, Woodville (4-7) 7
South Lamar (10-1) 45, Appalachian (6-5) 6
Decatur Heritage (11-0) 47, Vina (3-8) 8
Donoho (9-1) 34, Berry (6-5) 6

CLASS 2A
Leroy (9-2) 37, Daleville (7-4) 16
Goshen (8-3) 36, Thorsby (6-5) 30
Ariton (9-2) 40, Chickasaw (6-4) 19
LaFayette (6-4) 27, New Brockton (5-6) 7
Reeltown (10-1) 56, Zion Chapel (6-5) 0
J.U. Blacksher (9-2) 38, Abbeville (8-3) 30
Luverne (11-0) 54, Fayetteville (6-5) 7
G.W. Long (9-2) 31, Cottage Hill Christian (8-3) 0

Westbrook Christian (8-3) 25, Aliceville (8-3) 22
North Sand Mountain (8-3) 20, Addison (8-3) 13
Ohatchee (10-0) 55, Southeastern (5-6) 13
Collinsville (10-1) 63, Colbert County (6-5) 18
Fyffe (11-0) 48, Sheffield (6-4) 0
Ranburne (10-1) 44, Cold Springs (5-6) 0
Red Bay (11-0) 24, Cedar Bluff (7-4) 7
Sulligent (9-2) 27, Cleveland (5-6) 21

CLASS 3A
Flomaton (10-1) 58, Opp (4-7) 28
Saint James (10-1) 23, Oakman (6-5) 20
T.R. Miller (7-4) 25, Pike County (10-1) 13
Montgomery Academy (7-4) 24, Winfield (7-4) 20
Gordo (11-0) 36, Bullock County (6-5) 0
Providence Christian (10-1) 42, Bayside Academy (5-6) 21
Pike Road (11-0) 45, Carbon Hill (4-7) 0
Mobile Christian (6-4) 49, Geneva (8-3) 36

B.B. Comer (6-5) 28, Fultondale (8-3) 19
Geraldine (7-4) 49, Clements (6-5) 16
Piedmont (10-1) 35, J.B. Pennington (3-8) 0
Lauderdale County (9-2) 46, Sylvania (7-4) 20
Westminster Christian (8-2) 47, Pisgah (4-7) 28
Randolph County (10-1) 44, Midfield (6-4) 8
Susan Moore (11-0) 42, Colbert Heights (6-5) 7
Walter Wellborn (11-1) 54, Locust Fork (6-5) 14

CLASS 4A
UMS-Wright (10-0) 51, Dale County (4-7) 7
Talladega (7-5) 20, Montevallo (6-5) 18
Montgomery Catholic (11-0) 24, Williamson (7-4) 6
Handley (7-4) 50, West Blocton (5-6) 14
Lincoln (9-2) 38, Dallas County (4-7) 8
Andalusia (8-3) 24, Trinity Presbyterian (6-5) 6
American Christian (10-1) 50, Holtville (6-5) 0
Hillcrest-Evergreen (7-4) 28, Alabama Christian (6-5) 21

Northside (10-1) 35, Hokes Bluff (7-4) 21
Priceville (8-3) 44, Rogers (3-7) 23
Jacksonville (9-2) 55, Cordova (5-6) 26
St. John Paul II Catholic (9-2) 56, Brooks (6-5) 42
Deshler (8-3) 44, Danville (5-6) 6
Oneonta (8-3) 37, Good Hope (8-3) 29
Fairview (9-2) 46, Central-Florence (3-8) 20
Anniston (7-4) 19, Fayette County (8-3) 6

CLASS 5A
Faith Academy (11-0) 31, Charles Henderson (4-6) 0
Pleasant Grove (10-1) 28, Chilton County (6-5) 0
Valley (7-4) 21, Vigor (4-7) 6
Ramsay (9-2) 34, Demopolis (7-4) 12
Briarwood Christian (10-1) 42, Marbury (6-5) 26
Jackson (6-5) 29, Rehobeth (7-3) 7
Bibb County (11-0) 41, Parker (5-6) 12
Greenville (7-4) 22, Citronelle (7-4) 12

Mortimer Jordan (9-2) 42, Boaz (4-7) 14
Guntersville (8-2) 32, Hamilton (8-3) 9
Center Point (8-3) 42, at Etowah (9-2) 10
Scottsboro (9-2) 17, Russellville (8-3) 14
Madison County (9-2) 21, Corner (7-4) 14
Alexandria (8-2) 10, Sylacauga (8-3) 7
Jasper (11-0) 55, Madison Academy (5-6) 14
Central-Clay County (9-2) 47, Sardis (5-6) 14

CLASS 6A
Park Crossing (4-7) 30, Saraland (10-1) 27
Stanhope Elmore (9-2) 35, Paul Bryant (7-4) 13
Spanish Fort (6-4) 28, Dothan (8-3) 21 (OT)
Wetumpka (6-5) 22, Bessemer City (8-3) 21
Hueytown (10-1) 44, Selma (6-4) 24
Eufaula (9-2) 35, Blount (8-3) 6
Opelika (9-1) 48, McAdory (6-5) 20
St. Paul's Episcopal (8-3) 20, Sidney Lanier (3-6) 14

Clay-Chalkville (9-2) 17, Helena (9-2) 0
Athens (8-3) 62, Buckhorn (4-7) 14
Oxford (10-1) 55, Chelsea (5-6) 14
Cullman (6-5) 20, Mae Jemison (5-6) 0
Fort Payne (9-2) 24, Hartselle (4-7) 17
Pinson Valley (8-2) 42, Homewood (4-7) 7
Muscle Shoals (11-0) 61, Albertville (5-6) 20
Gardendale (8-3) 17, Minor (6-5) 11

CLASS 7A
Central-Phenix City (10-1) 45, Fairhope (6-5) 7
Prattville (9-2) 24, Theodore (8-3) 17 (2 OT)
McGill-Toolen Catholic (11-0) 35, Enterprise (5-6) 10
Auburn (8-3) 33, Murphy (6-5) 0

James Clemens (9-2) 21, Vestavia Hills (7-4) 20
Hoover (9-2) 21, Sparkman (8-3) 3
Thompson (9-1) 54, Austin (7-4) 20
Florence (7-4) 24, Mountain Brook (8-3) 21