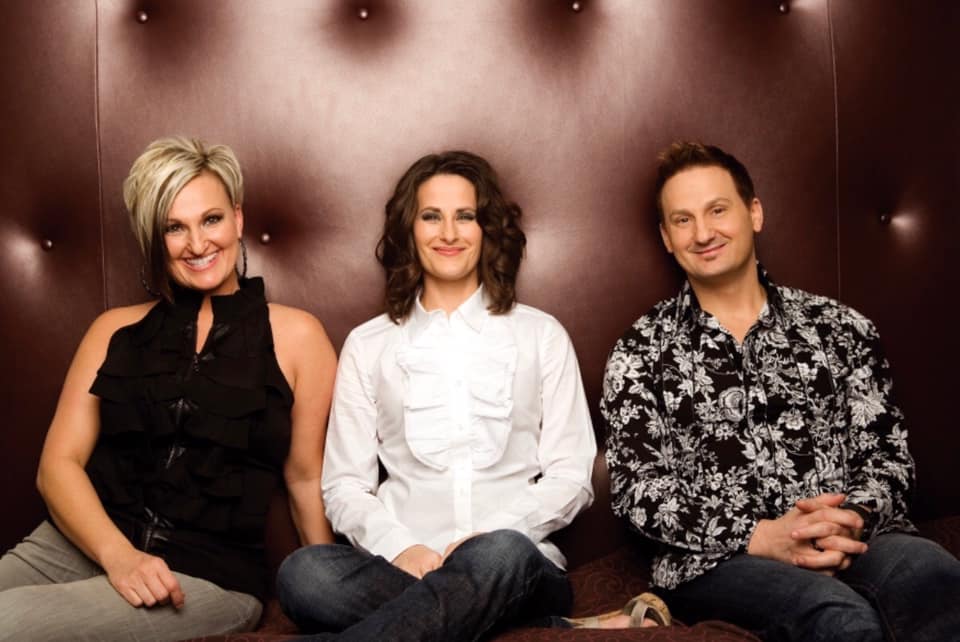 The Martins, one of the premier groups in Southern Gospel Music, that can be heard on Northeast Alabama's Southern Gospel Radio Station, WVSM, will headline NACC's Music on the Mountain.
The smooth, rich sounds of multi-Dove Award winning and multi-Grammy nominated trio, The Martins will be featured on Friday, August 2, at 6 PM, as the talented musical family comes to Northeast Alabama Community College's MUSIC ON THE MOUNTAIN concert for an exciting musical event.
"We are so excited to announce The Martins will be joining us for this year's MUSIC ON THE MOUNTAIN," said Chasley Bellomy, Event Planner at NACC. "Jeff Hawes (NACC instructor/staff member) has helped in so many ways to make this possible, and we are looking forward to a great night of Southern Gospel. We are grateful for the communities support of this event, and along with the encouragement of NACC President Dr. David Campbell, we hope the event will be a huge success."
NACC President Dr. David Campbell stated, "Gospel music, particularly Southern Gospel, is very much a part of the heritage of our area. We are pleased to honor this heritage with the Martin's concert. Mr. Hawes is in fact helping us put together a brochure on this heritage that will be given out at the concert."
Jeff Hawes added, "I am beyond thrilled to welcome The Martins to the NACC stage as we celebrate southern gospel music. I had the honor and privilege of being on tour with The Martins for several years as part of the Bill Gaither Homecoming Tour when I traveled with Karen Peck and New River. If you love family harmony, there's no one better than The Martins. They will warm your hearts with their unbelievable testimonies of God's faithfulness and light your smile with their sibling humor. Their Gospel Music Association Song of the Year, 'The Promise,' is one of the best gospel songs of our age."
Siblings, Judy, Jonathan and Joyce Martin, who grew up in rural Hamburg, AR, have enjoyed countless radio hits and performances on stages at such prestigious locations as The Grand Ole Opry and The White House, as well as concert halls, auditoriums and churches nationwide. During the 1990s, The Martins rose to national and international success, show casing their stunning and distinctive harmonies before a vast array of audiences, from Bill Gaither's multi-award winning Homecoming Video and Concert Series to the White House to Carnegie Hall. Over the years, the trio garnered eight Dove Awards from the Gospel Music Association, three Grammy nominations and multiple hit songs.
After nearly a decade of pursuing individual music careers, the trio reunited in 2010, much to the delight of long-time Martin music lovers, and released their first new recording in 10 years, New Day, produced by Jay DeMarcus (Rascal Flatts).
In 2014, The Martins joined renown arranger, Lari Goss and long-time friends and producers, Michael English, David Phelps and Matthew Holt to record a new a cappella hymns project. The recording, simply titled A Cappella was released in May of 2014, and features The Martins' unmatched and unmistakable family harmony. The recording earned the group a Grammy nomination for Best Roots Gospel Album, as well as the Dove Award nomination for Inspirational Album of the Year from the Gospel Music Association.
Most recently, The Martins returned to the recording studio to produce their latest recording. Still Standing, released in July under the Gaither Music Group label, garnered The Martins their third Grammy nomination, as the release received the nomination for 2019 Best Roots Gospel Album. This new recording finds the multi-Grammy nominated vocal group standing stronger than ever, show casing their benchmark family blends and intricate arrangements produced by renowned producer Gordon Mote. These compositions, including the remake of their classic hit "Wherever You Are," reflect the latest chapters in siblings Judy, Joyce and Jonathan's journeys as they share messages of God's goodness and providential hand at work in every season of our lives. Visit https://www.martinsonline.com/ for more information about the trio.
The Scottsboro Baptist Association Choir, a compilation of church choirs in the area, will be opening the show.
Complete event information may be obtained by contacting Chasley Bellomy, Event Planner at NACC, 256-638-4418 or 256-228-6001, ext. 2248, or by email at bellomyc@nacc.edu. Visit www.musiconthemountainnacc.com for tickets. Tickets are $15.