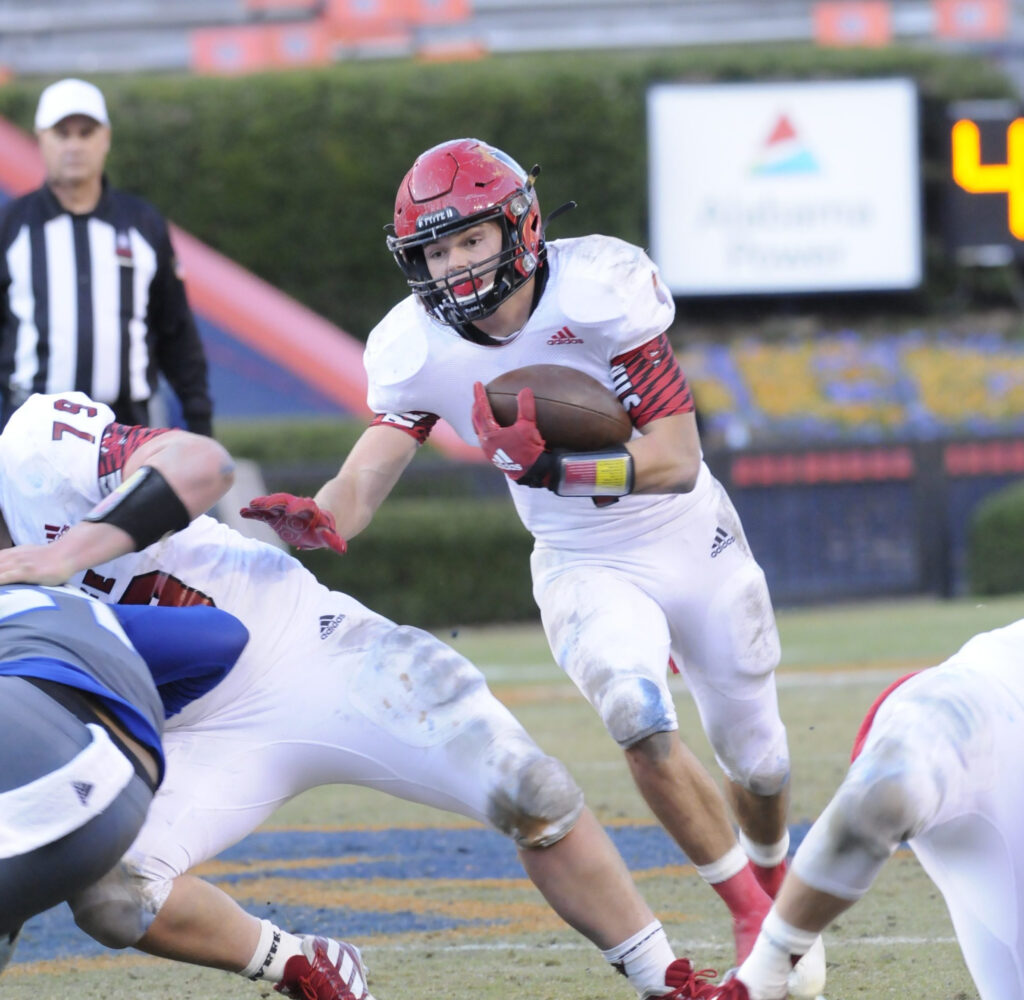 AUBURN – The Fyffe Red Devils rolled to an insurmountable 42-point lead in the opening half and cruised to a 56-7 victory over Reeltown to claim their second straight Class 2A state championship at the 2019 AHSAA Super 7 State Football Championships at Jordan-Hare Stadium on Friday.
     The Red Devils (15-0) led 28-7 after one period and 42-7 at the half behind quarterback Zach Pyron's 153 yards rushing and three touchdowns on 20 carries.  Pyron threw only one pass in the opening half out of Coach Paul Benefield's run-oriented hybrid Wing-T offense, a 20-yard score to tight end Brody Dalton. For the game, Pyron gained 171 yards on 27 carries.
      Fyffe, coached by Paul Benefield, finished with 325 yards, all but 20 on the ground, on 55 plays to just 51 total yards for Reeltown (13-2), coached by Matt Johnson. The Red Devils' defensive effort was the second fewest yards allowed in AHSAA Super 7 history dating back to 1996 and secured the school's fourth state title overall.
      A big reason the defense was so dominate was the offense's ability to keep the ball, with a 30:14 time of possession to the Rebels' 17:46. The Red Devils also converted 9-of-13 third-down attempts and was 2-of-2 on fourth-down tries while holding the Rebels to 2-of-8 on third downs and 0-for-2 on fourth downs.
The winners gave up a 90-yard kickoff return to Eric Shaw for Reeltown's lone score with 23 seconds remaining in the first quarter, making the score 28-7 after Connor Moore's PAT. That was the only touchdown Fyffe's first-team unit gave up all season. The Red Devils outscored opponents 639-43 in 15 games and had nine shutouts.
In the opening half, Fyffe's stifling defense held Reeltown to minus-1 yard rushing and only 5 total yards on just 13 offensive snaps. The Rebels gained 51 total yards in the game, just 20 on the ground on 23 rushes.
Fyffe Linebacker Ty Bell, who recovered a fumble on the kickoff following Dalton's score, scooped up another loose ball and ran it in for a 7-yard touchdown to put Fyffe up 20-0 with 7:11 to play in the first period. The final Fyffe points – with 1:12 left in the game – also came on a fumble recovery as David McKee grabbed the ball in the end zone after Reeltown's punter lost it in a scramble for a high snap from center.
After Pyron's third first-half TD, a 1-yard run with 6:16 left in the second quarter, Ike Rowell punched in another score with just 19 seconds left in the period. Rowell finished with 121 yards on 18 carries in the win.
The third period was scoreless before Malichi Mize scored from 2 yards out to complete an 11-play, 58-yard drive on the first snap of the final quarter. Dalton was 7-for-8 on extra-point kicks while Pyron ran for a two-point conversion to push the lead to 28-0 with 40 seconds remaining in the first.
Cameron Faison was the leading rusher for Reeltown with 20 yards on seven carries. Quarterback Iverson Hooks was 4-of-11 passing for 31 yards with Shaw catching two passes for 19 yards. He also had 114 yards in kickoff returns.
Ike Rowell had five tackles to pace the Red Devils defense. Leading the Rebels was Tra Hughley with a game-leading 10 tackles and two assists. Hooks had eight tackles and Rhasheed Wilson had seven.
Reeltown has been a regular visitor to the AHSAA state championship game, with three titles (1987, 2001, 2009) and six runner-up finishes (1984, 1991, 1992, 2000, 2010, 2019). Fyffe's other state titles were in 2014, 2016 and 2018 – all at Jordan-Hare Stadium. The Red Devils finished second in 2007 and 2015. The coaching win for Benefield was the 297th of his 28-year career. He is now 297-53 overall.
The 24th Super 7 State Championships conclude Friday with defending Oxford (13-1) taking on Spanish Fort (9-4) in the 6A finals at 7 to close out the 2019 Super 7 Championships.