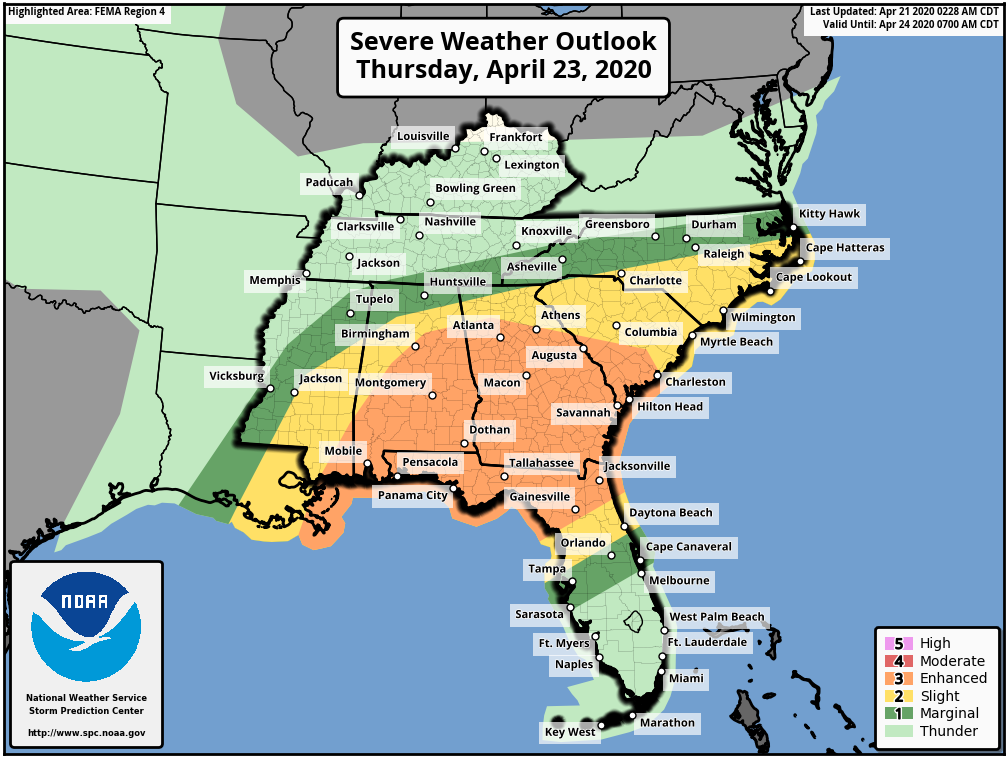 Another "Major TORNADO" outbreak is possible, this Thursday, April 23, 2020, across the South. Currently, models are showing the possibility of a significant Severe Weather Outbreak this Thursday, including the chance for VIOLENT STRONG LONG TRACK TORNADOES again.
As of today, The Storm Prediction Center already has a large portion of the South in an "Enhanced Risk" (3 out of 5) for Severe Weather, surrounded by a "Slight Risk" (2 out of 5). These Risk Areas in includes parts of Mississippi, Alabama, Florida, Georgia, and South Carolina.
So, again, make sure you have multiple ways to receive warnings and if a TORNADO WATCH is issued for your area, and you plan on using a community shelter, please make plans to head to that shelter when the watch is issued. Because you will not have time to drive there once a warning is issued for you area.
YOU HAVE 3 DAYS ADVANCE NOTICE…SO DO NOT BE THAT PERSON THAT SAYS "We didn't have any kind of a warning." You are being WARNED now.
The information below is taken directly from The Storm Prediction Center:
THERE IS AN ENHANCED RISK OF SEVERE THUNDERSTORMS MAINLY OVER ALABAMA…GEORGIA…AND NORTHERN FLORIDA INCLUDING THE PANHANDLE…
…SUMMARY:
Significant Severe storms are expected over parts of the Southeast on Thursday, including the potential for STRONG TORNADOES.
Models differ with how quickly the dryline will move, and early day storms may dictate where the quasi-stationary warm front sets up latitudinally. Regardless, the warm sector will become very unstable, with shear favoring tornadic supercells along the dryline and warm front/outflow boundary. At this time, it appears the bulk of the activity will occur over AL, GA, and the FL Panhandle into northern FL.
The NAM solution, if taken literally, suggests strong and perhaps Violent Tornadoes will be possible over parts of MS, AL, and GA.