The South will see the chance for Severe weather this Saturday, April 24, 2021 and then again on Tuesday, April 27, 2021, on the 10th Anniversary on the 2011 super outbreak. Plan on being weather alert this weekend and next Tuesday, if you live in the outlined areas.
We are close enough to Saturday now that model have a good handle on the areas that will be affected by Severe weather across the Southeast. The primary threats for this Saturday will be large hail and damaging winds, with a few Tornadoes possible as well. Currently, the Severe weather threat includes Central and Southern portions of Alabama and most of the state of Georgia and into the Carolinas. The exact area may change some as we get closer, so stay up to date with the latest weather information.
Here is the summary from the SPC (The Storm Prediction Center) for Saturday:
Isolated to scattered severe thunderstorms may occur Saturday across parts of the Southeast. All severe hazards appear possible, including large hail, damaging winds, and a few tornadoes.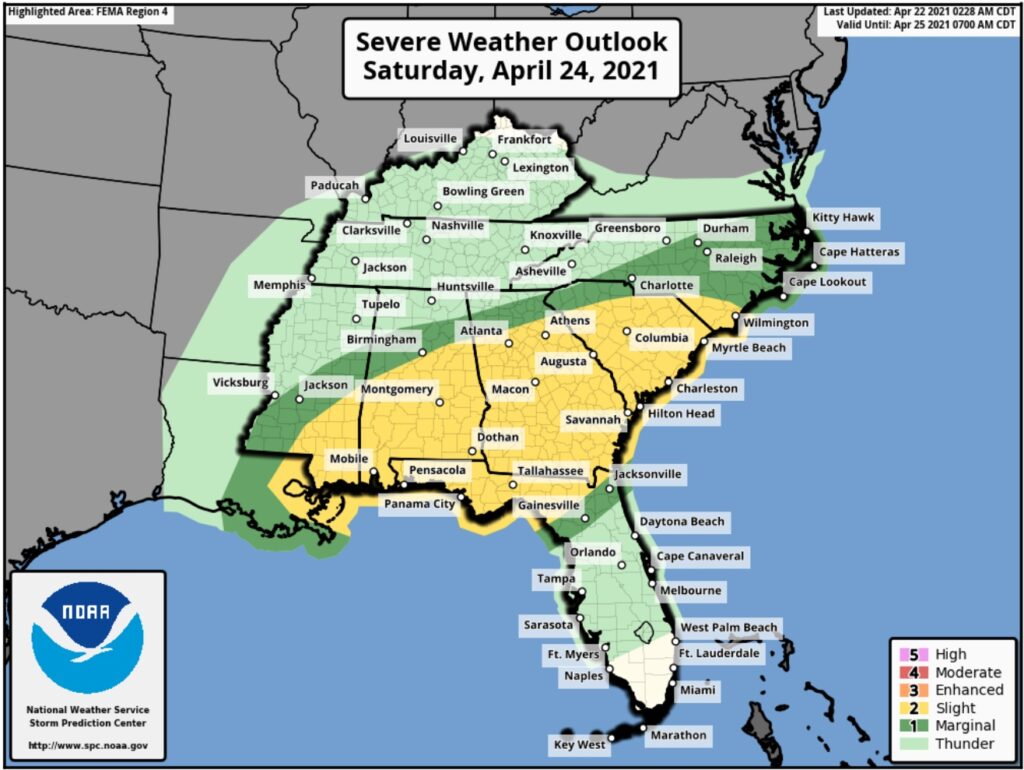 For Tuesday, April 27, 2011, we are still a little to far out to give an exact location for possible Severe weather, but right now, it looks like Tuesday afternoon across central TX into Western/Central OK and parts of KS, will have the best chance for Severe weather.