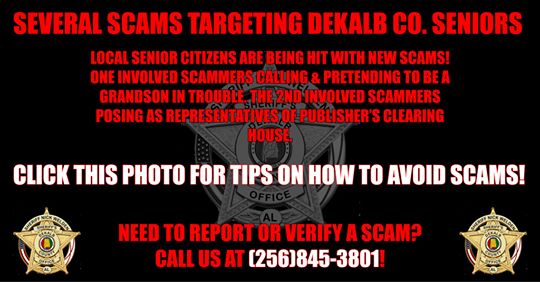 Over the last few weeks, the DeKalb County Sheriff's Office has dealt with several incidents of telephone scams targeting senior citizens.
In one instance, a local senior citizen in the Sylvania area was contacted by someone claiming to be her grandson. The individual convinced her he had been in a traffic accident in Florida. As he was at fault in the accident, he put the woman on the phone with another male that identified as his attorney. He also insisted that the woman not contact his parents, as he did not want them to know he was in trouble.
The "attorney" told the woman that she must send him $6500 in cash to an address in Kissimmee, Florida in order for her grandson to avoid being placed in jail. The victim promptly withdrew the cash, and sent the money to the address. The individual even instructed the woman to put the money in two separate envelopes and place them in a larger padded envelope.
Fortunately, the money was intercepted by the postal service before reaching the scammers.
In another case, a woman in the Powell area was contacted by a New York phone number stating that she had won $2,500,000 and a new Mercedes from Publisher's Clearing House. The caller stated that the victim must send $1099.50 to pay the taxes up front before the team can come out to her home and present the winnings.
The victim asked the caller to send additional proof of the winnings, and she was emailed fake documentation. The victim was then asked to mail a check to an address in Brooklyn, New York for the taxes. After mailing the check, the victim became suspicious and canceled the check before it arrived.
It's important to remember if you are contacted by one of these scammers, that no one will legitimately request you to mail or ship cash. Such an act is illegal. If you are contacted by anyone claiming that a loved one is in trouble, please try and contact your loved one or someone close to them to verify it. If you cannot verify it, contact our office at (256)845-3801 and we will attempt to verify it.
Also, if you win any prize or contest, the company issuing the prize will never ask for tax payment up front. Publisher's Clearing House will also come to your house and present your winnings. No payment is necessary before this takes place.
DeKalb County Sheriff Nick Welden said: "It's unfortunate that these scammers have nothing better to do than try to earn a living by swindling others out of their hard earned money. If you are contacted by someone suspicious, please verify before sending them anything."
"If you can't verify it, please contact our office and we will try to verify that your loved one is alright. These scammers continue these schemes due to them paying off. Even if they call 500 a day, and only 10 victims fall for it, that still can net them $10,000 in one day," he said.
"God Bless!" Said Sheriff Welden.