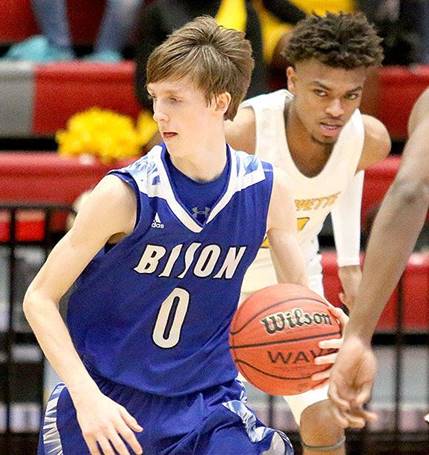 Thundering Herd is Scoring 91.1 PPG

MONTGOMERY – Class 2A North Sand Mountain High School senior guard Russ Marr is on a torrid scoring pace this season. And so are his teammates.
Marr improved his season scoring average to 25.8 points per game with 39, 38, 17 and 27 points in his last four outings – wins over Pisgah (118-77), Ider (115-58), and North Jackson (99-41) and a 73-71 loss to Class 6A Buckhorn. The Thundering Herd (15-5) is scoring 90.9 points per game – leading the state and the nation, according to statistics compiled by MaxPreps.
Marr grabs this week's AHSAA Boys' Basketball Spotlight. He had sank nine treys in 14 tries in the win over Pisgah, was 7-of-12 versus Ider, nailed 3-of-12 against North Jackson and sank six in the loss to Buckhorn, North Sand Mountain's lowest output this season. Teammate Luke Maples added 19 points in the win over North Jackson – sinking six treys. He handed out 14 assists in the Pisgah win and had 13 in the Thundering Herd's 110-58 win over Dade County (GA).
Marr also took two charges on defense in the win over the Class 4A Chiefs, and scored a career-high 62 in a 104-99 win over Sylvania last season. Maples is averaging 19.0 ppg and Derek Bearden, 14.2 ppg.
The Thundering Herd's red-hot scoring pace shouldn't be surprising. Head coach Cole Hicks was an outstanding scoring in his playing days at NSM. He finished his career with 227 3-pointers made out of 1,147 attempts – both totals ranking third in AHSAA boys' basketball history, according to the AHSAA Record Book. His dad Glen Hicks coached NSM to a state-record 111.8-points per game average in the 1992-93 season with his son serving as a manager for that team. Glen, who closed out his head-coaching career in nearby Dade County (GA), came out of retirement and is now an assistant coach on the North Sand Mountain coaching staff along with his own longtime assistant Rick Mabry.
Other top performances reported for the past week include;
JALON CHAPMAN, BUCKHORN: Had 13 points and 12 rebounds in the Bucks' 47-46 loss to Sparkman. The highlight of the night, however, was a ceremony hanging former Buckhorn star Frankie Davidson's No. 24 in the gymnasium. Davidson, the school's assistant principal, led the Bucks to the 4A state title in 1990-91 and a state runner-up finish in 1989-90. Chapman also scored 17 points in a 75-72 overtime loss to Scottsboro for Buckhorn (14-7).
ALEX ODAM, PIEDMONT: Scored 36 points in a 66-57 Calhoun County tournament setback to Jacksonville for the highest point production in the tourney this season. He was 14-of-28 from the field with four 3-pointers. Caden Johnson had 21 for Jacksonville.
TREY GLOVER, THEODORE: His 3-pointer at the final buzzer lifted the Bobcats past Baker 62-61. He finished with 10 points.
BARRY DUNNING, McGILL-TOOLEN CATHOLIC: The junior standout scored 18 points to lift McGill-Toolen past Blount 57-38 and went over 1,000 points for his career in the process.
JAMARKUS ALEXANDER, MIDFIELD: Helped the Class 2A Patriots (15-6) to two wins with 21 points, 15 rebounds and seven steals in a 64-36 victory over Class 5A Carver-Birmingham and added 20 points and 11 steals as Midfield beat Altamont 91-30. His 11 steals were one shy of the AHSAA single-game state record (12) set by Corey Boston of LaFayette in 2018 and equaled last week by Malikye Wright of Red Level.
WIN MILLER, VESTAVIA HILLS: Scored 27 points to lead the Rebels (20-2) past Spain Park 64-63. Host Vestavia Hills fell behind 13-0 but rebounded to claim its seventh victory in a row. Miller also scored 21 in the Rebels' 85-40 victory over Gadsden City.
GREG WATKINS, CHICKASAW: Sank two free throws with two seconds left in overtime Chieftains (11-2) beat Mobile Christian 69-67 in a Class 3A battle at Mobile. Watkins pulled down an offensive rebound off a missed free throw and was fouled to send him to the line.
B.J. HARRIS, SCOTTSBORO: Scored 33 points in Scottsboro's 75-72 overtime win against Buckhorn.
BRODY PEEBLES, HARTSELLE: Tallied 29 points as Hartselle nipped Muscle Shoals 58-57 and had 38 in a 71-51 victory over Decatur.
WESTLEY PERSON, BRANTLEY: Scored 27 points in the Bulldogs' 55-27 win over Red Level and 15 in a 59-56 win over Luverne – sinking 10-of-11 free throws over the two games.
ANDRA BURROUGHS, CLARKE COUNTY: The Bulldogs' point guard, who is averaging 28.3 points a game, had a season high 43 points in a 91-59 win over Leroy with sinking 15-of-20 field goals attempted, including 6-of-9 from the 3-point arc. He also made 7-of-10 free throws, had eight assists, four rebounds and three steals in the win.
J.C. CURTIS, CALHOUN: Had 21 points and 18 rebounds and teammate J.D. Davison added 19 points and 11 rebounds in a 70-55 win over Tallassee.
MIKE HOUREL, ANDALUSIA: Had 18 points, seven rebounds and five assists in a 55-50 win over Monroe County and tallied 30 points, 10 boards and four assists in a 80-79 loss to Greenville.
CALEN LIGHTFORD, SPARKMAN: Had 30 points in a 66-63 loss to Grissom and scored 13 in the Senators' 47-46 win over Buckhorn.
JACOB COMER, PRATTVILLE CHRISTIAN: Had 29 points and five assists as the Panthers beat Montgomery Academy 58-42.
LUKE GUYETTE, HUNTSVILLE: Average 17 points per game to lead the Panthers (16-4) to three wins last week – including two over ranked teams – extending their winning streak to five in a row. He had 15 points in a 59-45 victory over Class 7A, fifth-ranked Sparkman, 19 in a 70-53 win over 10th-ranked Austin and 17 in a 69-47 victory over Albertville. He had five treys in that game.
GREEDY WILLIAMS, PINSON VALLEY: Had 18 points, five rebounds and three assists to lead the defending Class 6A state champion Indians (13-2) past Gardendale 81-57. He also had 25 points – thanks in part to five 3-point goals – and handed our four assists in a 73-41 victory over Greenville for their third win of the week.
JORDAN EGGLESTON, CALERA: Totaled 24 points and nine rebounds in the Eagles' 72-54 win over Helena.
JORDAN BELL, WILLIAMSON: Had a double-double with 12 points, 10 rebounds, two steals and two blocks as the defending Class 4A state champion Lions (19-2) beat Escambia County 48-39.
KELVON TOWNSEND, WOODLAWN: Had 26 points and nine rebounds in the Colonels' 60-59 win over Center Point and 25 points and nine boards in a 76-70 loss to Huffman.
CHRISTIAN LEWIS, PLEASANT GROVE: Had 23 points and 10 rebounds to lead the Spartans (13-4) past John Carroll Catholic 67-47.
TRENT THOMAS, COTTAGE HILL CHRISTIAN: Had 25 points to lead the Warriors (15-1) past Citronelle 64-50.