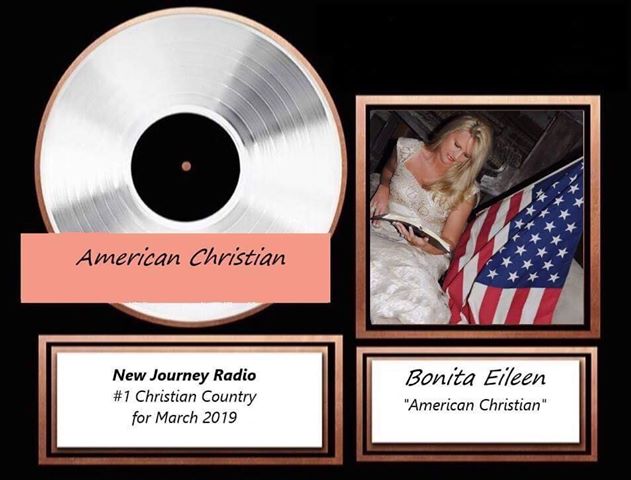 Local artist Bonita Eileen, from Fort Payne, Al., will be featured at Dollywood's Heartsong Theatre in Pigeon Forge, TN. on Saturday, April 20, 2019. Bonita has been singing gospel music in church since she was just 5 years old, recording since she was 28, and has lived in Fort Payne all her life. She has had the honor of singing at Dollywood in the past.
Bonita's current single release, "American Christian" is very active in Christian music. The song just went to #1 on the New Journey Radios Top Hot Christian Country Radio FAM Favorites. Bonita's daughter, Ashley, was very talented and sang with her also. But in 2003 tragedy struck and Bonita took a break from singing, after the sudden and tragic death of her daughter, Ashley, in September 2003. Ashley was born with an unknown brain tumor, that would not show up until 14 years later. There were no signs of any health issues until the age of 14, when one day Ashley complained with having a severe headache. Just 36 hours later, Ashley went home to be with the Lord. Bonita said, "My daughter Ashley, was beautiful and talented. She loved the Lord with all her heart and soul and her life reflected that for the short fourteen years she was with us. After losing my daughter in 2003 the Lord began a new chapter adding sharing my testimony and beginning to speak at conferences and helping others with and through their grief."
With help from God, and relying on His strength, Bonita is now back sharing God's message through song again. She has three current CD projects, "Sanctuary", "Living Faith", and "In His Time", plus her current single release "American Christian". Her new release is "He's God".
Bonita would love to come and share God's word in song and her testimony at your church. For booking information contact Travis Green Greenbooking@outlook.com or call 601-770-5908
You can follow Bonita's ministry on Facebook at Facebook.com/In His Time Ministry.