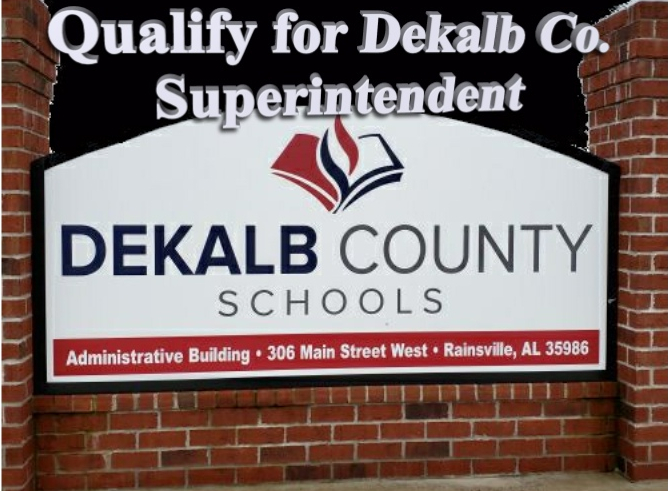 Qualifying dates for Dekalb County Superintendent, and other local races, have been set by the Democrat and Republican parties. Anyone wishing to qualify for Dekalb County Superintendent or other local county offices, here is the information you need.
Local office positions that will be on the ballot for the 2020 Primary and General elections include:
Dekalb County Superintendent
Dekalb County Commission, District 1 (includes Ider, Mentone, & Valley Head) and District 2 (includes Fyffe, Geraldine, & Collinsville)
Dekalb County District Judge
Dekalb County Revenue Commissioner
Dekalb County Board of Education, Places 1, 2, and 5
According to Dekalb County Probate Judge, Ronnie Osborn, qualifying for the Republican Party will begin on October 8, 2019. Those wishing to qualify on the first day, can go to the Dekalb County Probate Judge's Courtroom, on the 1st floor of the Dekalb County Courthouse, in Fort Payne, Al. The courtroom will be open from 8:00 am until 4:00 pm, that day for qualifying. The last day to qualify will be November 8, 2019. For additional information about qualifying for the Dekalb County Republican offices, you can contact David Gulledge at david55gulledge@outlook.com.
According to Mary McGuire Smith, Dekalb County Democratic Executive Committee Chair, the qualifying period, for Dekalb County Democratic candidates for office, is September 27, 2019 -November 8, 2019.
If anyone would like to run for office as a Democrat, they may contact Mary McGuire Smith at democrat@iride.at or call 772-473-0528. Primary elections will be held on March 3, 2020, with the general elections held on November 3, 2020.