Illinois Sex Offender apprehended near Henagar, Al.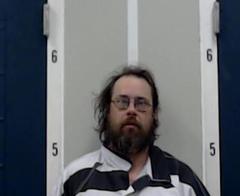 FORT PAYNE, Ala. — Yesterday afternoon (April 24, 2019) DeKalb County Deputies, Investigators, and U.S. Marshalls apprehended a sex offender from Illinois near Henagar.
Jason Wienk (45 of Seneca, Illinois) was apprehended yesterday on County Road 126 (Ridgeview Drive). He had been staying at a residence on County Road 671. The apprehension team was in route to the residence when Wienk and another individual passed them on County Road 126.
Wienk was convicted of 3 counts of Predatory Criminal Sexual Assault in 2014, and had registered in Illinois 5 years ago, but had failed to register again since the conviction. He had reportedly been staying with an individual he met online in Henagar.
Wienk is currently being held in the DeKalb County Jail on a charge of violating the Sex Offender Registration and Notification Act (SORNA).
DeKalb County Sheriff Nick Welden said of the arrest: "We were glad to help our federal partners take this individual into custody. Offenders who cannot follow the requirements of the law have no place in our communities."
"While it seems far-fetched that an offender from Illinois could end up here, we're a rural area and these individuals may end up here attempting to hide. Please be vigilant of suspicious persons moving in your neighborhoods," he continued.
"Don't be afraid to call us at (256)845-3801 if anyone suspicious moves in. God Bless!" Concluded Sheriff Welden.