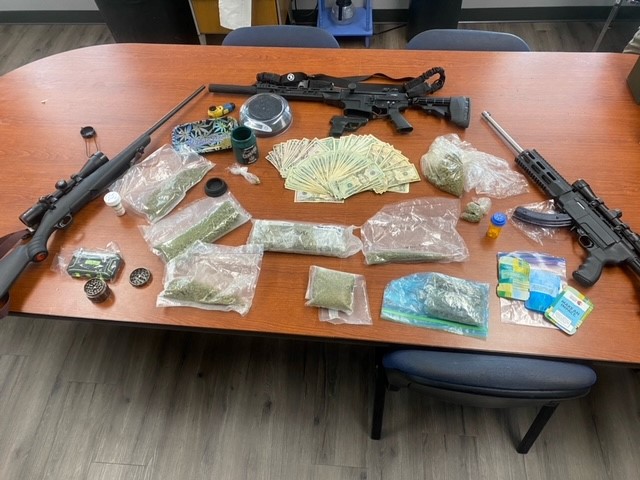 News release from Rainsville Police Department
PRESS RELEASE
JULY 15TH, 2021
On July 13th, 2021 the Rainsville Police Department, along with the Fort Payne Police
Department, attached to the Dekalb County District Attorney's Office Major Crimes Unit, executed a buy-bust operation for illegal narcotics at the Mapco service station at the intersection of Main St. and McCurdy Ave. in Rainsville.
The Rainsville Police Department received information that a drug transaction was set to take place at the Mapco around the time of 6 p.m. on Tuesday. Officers then took position to witness and intercept the transaction. Shortly after 6 p.m. officers witnessed 3 vehicles pull into the Mapco and park on the south side of the building. Officers then witnessed an exchange of money and suspected narcotics.


At that time, officers moved in to make contact. All individuals involved were detained without incident. Upon making contact, it was discovered that a marijuana purchase had taken place, along with marijuana use, at the time we arrived. Further search led the discovery of other illegal narcotics which were clonazapam and hydrocodone. All subjects involved were arrested and all contraband was seized.
Further investigation led to information about more illegal narcotics at a residence on County Rd. 400 in Fyffe. A search warrant was then executed by the Rainsville Police Department and the Ft. Payne Police Department. This led to the discovery of more marijuana and paraphernalia, with all contraband being seized. While investigating further, more information was obtained about the location where the marijuana was being sold from. Officers then went to the residence described to us, which was in Rainsville.
After making contact with the individual, a search warrant was then obtained and executed due to marijuana being plainly visible in the residence. The search led to the discovery of a large amount of marijuana, guns, and cash. All contraband was seized. The entirety of the investigation led to the arrest of 6 people in association with the distribution and possession of marijuana and drug paraphernalia.
Chief Michael Edmondson stated, "this was a successful evening for the Rainsville Police Department and the Ft. Payne Police Department. It is just another example of how being proactive presents opportunities to find and arrest the people who are tainting our cities and communities with the use and distribution of illegal drugs".