Easter is approaching and so is a high threat for SEVERE Weather on Easter Sunday. Currently, The Storm Prediction Center has a very large area of the South under the risk for Severe Weather on Sunday. People usually ask, will this be like April 27, 2011? Don't get caught up in comparing severe weather events to another, but this one does have the possibility to be a bad event, with strong long track Tornadoes. Here is what you need to know, if you live anywhere within the color shaded areas, on these Severe Weather Outlook maps, then you have the chance to see a TORNADO and even possibly a STRONG TORNADO on Sunday into Sunday night. The highest risk area for these is currently the "Moderate Risk" area, but that doesn't mean they will be confined to just that area only. Just look at the recent Jonesboro, AR Tornado, that occurred in only a "Slight Risk" area.
The key wording here is "a chance". This is Springtime and all the ingredients are coming together for a significant Severe Weather Event this Sunday. We do not give out this information to scare anyone, but rather have everyone to plan ahead and be ready. Make sure you have multiple ways to receive warnings. If you live in a mobile home or a manufactured home, then plan now to leave that home on Sunday and seek shelter at either a community shelter or if you have a personal storm shelter. Again, do not take this Severe Weather event lightly.
PLAN NOW TO PROTECT YOUR FAMILY ON SUNDAY FROM THIS DANGEROUS WEATHER EVENT. PLEASE EITHER SHARE THIS POST OR AT LEAST SHARE THE INFORMATION AND GET THE WORD OUT TO HELP SAVE LIVES.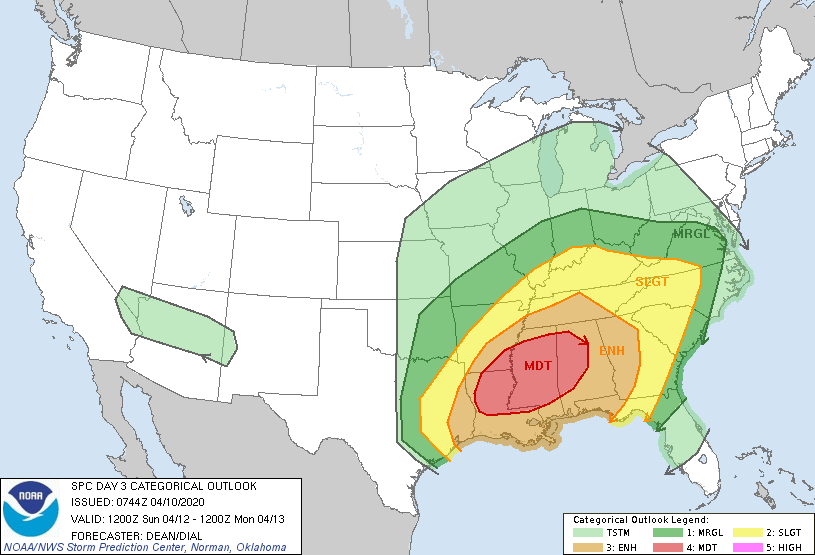 Below, you will find information directly from The Storm Prediction Center. It may be a bit a wordy, but you can get the main idea.
…THERE IS A MODERATE RISK OF SEVERE THUNDERSTORMS FOR
CENTRAL/NORTHERN LOUISIANA…SOUTHEAST
ARKANSAS…MISSISSIPPI…WESTERN/CENTRAL ALABAMA…
…SUMMARY…
An outbreak of severe thunderstorms appears likely Sunday into Sunday night, with the greatest threat expected from Louisiana east-northeastward through much of the Southeast and Tennessee Valley. Strong, long-tracked tornadoes and potentially widespread damaging wind are possible.
…East Texas into the Southeast…
Ingredients for a potential severe thunderstorm outbreak still appear likely to come together Sunday. Moderate to locally strong destabilization in conjunction with an 80-100 kt midlevel jet and 50-60 kt low-level jet will result in a very favorable environment for organized convection.
Ongoing storms across east TX Sunday morning will likely spread northeastward with time and become increasingly surface based as they encounter rapidly increasing low-level moisture, with additional development possible further south near the lower MS River valley by late morning. As the downstream airmass heats and destabilizes, long-track supercells may evolve out of the morning convection and track northeastward into portions of MS/AL, with a corresponding risk of strong tornadoes, large hail, and damaging wind gusts. Some upscale growth is possible with time, which would result in a corresponding widespread damaging wind risk, given extremely strong wind fields. Some threat of damaging wind and a few tornadoes will likely reach portions of the Carolinas by 12Z Monday.