In what should be a joyous time for the Braves and Braves fans, it is surely turning out to be a nightmare for a lot of Braves fans.
The Braves defeated the Los Angeles Dodgers in National League Championship Series with a 4-2 win in Game 6 on Saturday night in Atlanta. This win sends the Braves to the World Series against the Houston Astro's. With games 3 and 4 being hosted by the Braves in Atlanta, GA.
As pre-sale tickets went on-sale today, many fans were dismayed, to say the least, at not being able to purchase tickets. Emails from the Braves did state there would be extremely limited amounts of tickets. We have heard many complaints about fans not being able to purchase tickets, even with their pre-sale codes and plenty of tickets showing up as available online, when they logged into the pre-sale event.
So, we tried purchasing tickets ourselves. We ran into the same problem. Using two different pre-sale codes, one supplied directly from an Atlanta Braves customer service employee and another via the Braves emails.
ALL of our attempts to purchase tickets were met with the same error message from TicketMaster. That error says, "Sorry we could not process your request, please try again later. Error code 0002". This was on every attempt, and again, seats showing as available. This happened at the 10 ET, 11 ET, and 12 ET ticket releases. We attempted at least 40 – 50 times to add tickets, with no luck.
This error was given on every single attempt to purchase tickets, over a 4 hour period. In our test we used three different computers, Chrome and Firefox web browsers, and even our smart phones and received the exact same results, and again, this is while tickets were showing up as "available" each time. There was simply no way to purchase tickets from the Braves website, as promised in their email.
This is a very sad thing to happen, especially when you have a lot of families wanting to take their small children to see the Braves in a World Series game close to home.
It seems the ticket scalpers are not having any issues getting tickets and then marking them up 2, 3, 4 times the price and then small families are suffering from it.
We did reach out to the Atlanta Braves, via their customer service line, around 3:00 ET and talked with a representative and stated that the Braves were currently sold out of tickets and they apologized for any inconvenience. They stated also that TicketMaster did have some issues today and they were working to get those fixed. Too little, too later, now that all the tickets are gone.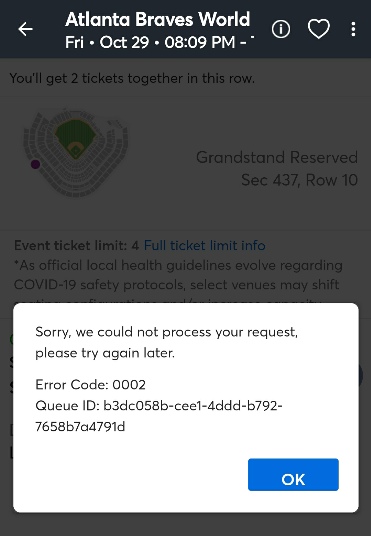 We reached out to the Atlanta Braves and received this news release from them:
"Presale tickets for World Series games 3, 4, and 5 (if necessary) are now sold out. A very limited inventory of additional tickets will be available for the general public on-sale tomorrow at 10 a.m. at braves.com/postseason. Fans can join the excitement and support the Braves throughout the World Series at The Battery Atlanta watch parties, with multiple viewing locations, the Braves entertainment teams, BLOOPER, and more for both home and away games this week. Watch parties for away games will begin 30 minutes prior to First Pitch each day, and fans can come early to secure their spot on the Plaza Green to cheer on the Atlanta Braves as they take on the Houston Astros!"